Working with Hog Roast Chesterfield you get to experience many different events and are often invited to milestone moments in peoples lives. As caterers we feel proud that we get to have an impact on making such occasions that bit more memorable with our delicious slow roasted food. It is testament to our service and dedicated teams that we are often asked back time and time again to cook our slow roasted food for our loyal clientele.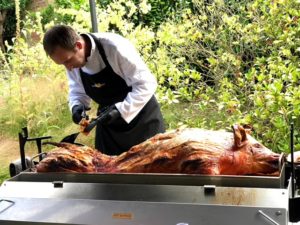 This weekend was a very special occasion as we had been contacted to provide catering for Wendy's 60th birthday celebrations. The party was being held in a private garden at Wendy's home and so catering manager Martin made arrangements for our equipment and produce to be delivered to site.
Once there we quickly got set up and started getting on with the main event- the hog itself. When preparing a hog for roasting the most essential part comes with how you prepare the skin. Our Hog Roast Chesterfield team know that in order to get the best and most crispy crackling you need to treat the skin with salt and score it to allow the skin to crisp up in our hog roast machine. By doing this and then roasting the meat for up to eight hours we can guarantee that come time to serve we will have the best product possible.
In fact, when Martin began to carve the meat on this occasion its struggled to hold its delicate shape as most of it simply fell off the bone ready for eating! Martin had also prepared some grilled vegetable and Haloumi Skewers, Served with Pitta Breads and a Tzatziki Dip. To complete the menu, we had a Classic Caesar salad (without anchovies) and Crispy Thai salad (as salad options instead of coleslaw and mixed salad) – we are always happy to amend our menus to suit your tastes!
As guests tucked in, we wished Wendy a happy birthday ad began to tidy away our things, leaving behind nothing but a couple of business cards and full tummies…