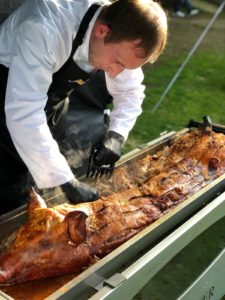 Welcome to the Spitting Pig website, your online portal for the best hog roasts in Derby. At Spitting Pig Derby we service hundreds of people each year, helping customers realise the full potential of their events through a truly great catering service. If astounding event catering is what you're searching for then we're the very best that Derby has to offer – A company in a league of its own with an uncontrollable enthusiasm for good cooking and all the skill sets and experience to get the job done in a professional and smooth manner. And because we're a company of so many menus, with experience at so many events, we know that yours is an event we can make as great as you're hoping it will be.
Quality Hog And Spit Roast Catering
When it comes to hog roast catering we can't be beat on quality, ours is a catering experience that's all-round remarkable and stands out from the crowd because of it. No other Hog Roast Derby company has a service that's quite like ours and the best news is that we cater all over Derby, whether in the heart or on the outskirts. Dedicated to local produce and cooking with ingredients that are as fresh as they are tasty, we take great pride in helping to support the Derby culture and economy by sourcing the foods we cater with from independent farmers within Derby.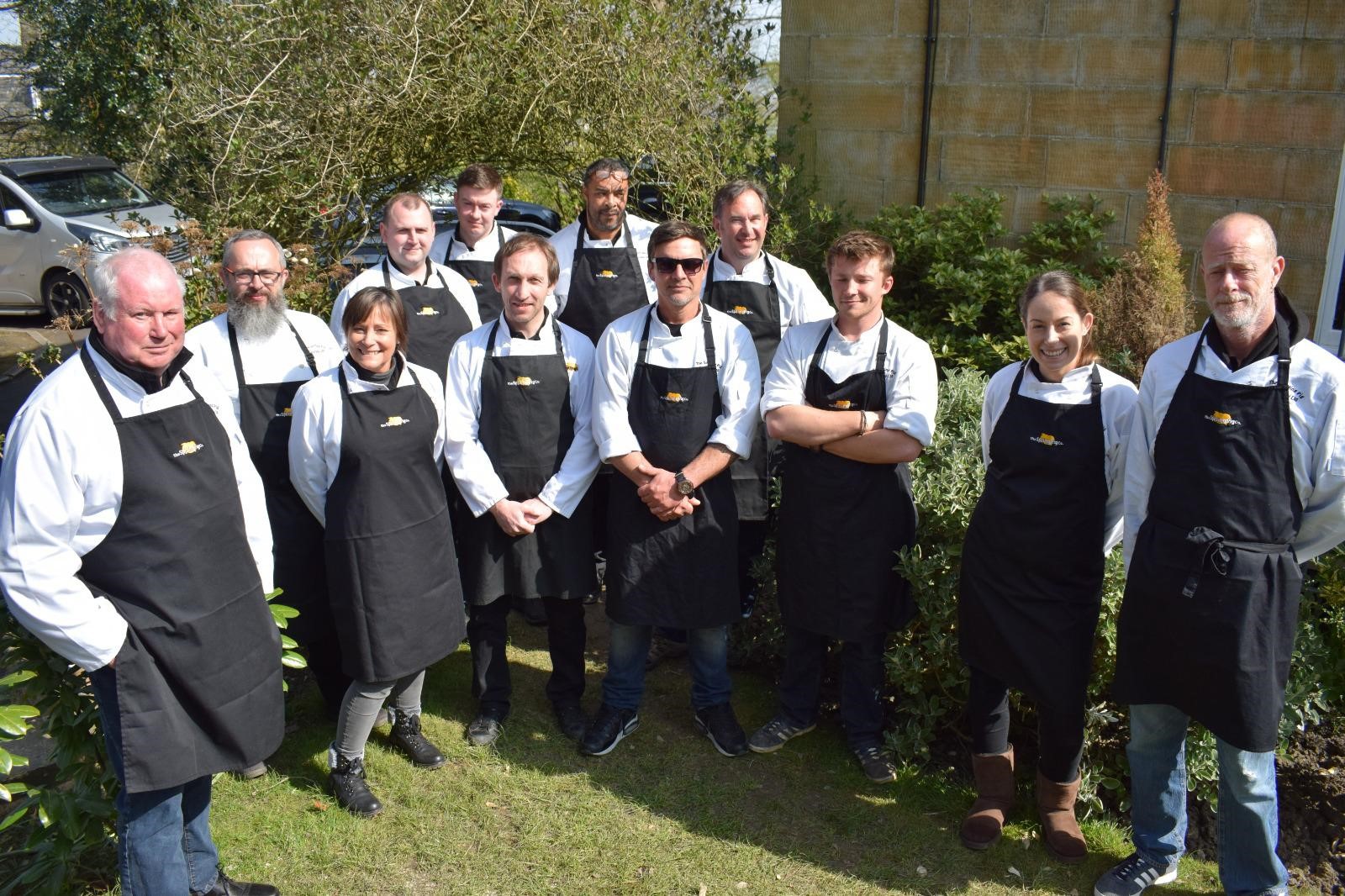 The company has been running for a few years now and we've got experience in abundance, experience with all variety of events with the only constant theme being the focus on spit roasts that are so good that you'll not be able to look at ordinary, bland party food in the same way ever again. Processed meats and pre-made dishes that most party buffets rely on have absolutely no place in the hog roast repertoire, all of our dishes are prepped and cooked on site for a hog roast in Derbyshire.
Talented Catering Teams
The aim is for our hog roast catering to be special every time and to elevate your event to the next level, and we make sure that the aim is always reached by way of the extremely skilled and reliable Hog Roast Derby team, most of which have been with us since day 1, providing a strong bond and understanding between staff to guarantee a smooth service that comes without hiccups.
Spitting Pig excels as a hog roast Chesterfield event caterer who are happy to cater at your event no matter what the number of guests is or what the event type is. Catering at weddings, parties, corporate functions and other various events is something we've done many times over, it's safe to say that our experience is so far reaching that there probably isn't an event you could query us for that we aren't able to take on and catering with flair and fineness for.
A hog roast is really simple and some of our menus have only 1 ingredient that needs cooking, the meat. And with food that's so simple we're in a great position of being able to keep costs down and within financial range for all customers. The meat we cook can be pig, lamb, turkey, chicken or beef and they're all complimented by their own unique seasonings and sauces and with appetising bread rolls that we make ourselves. But we do so much more than snack sandwiches; the snack sandwich is just a small part of the many great menus that Hog Roast Derby can offer you at your hog roast Tamworth event.
Some of our menus are simple, some are extravagant, and some sit somewhere in between. The next step up from the snack sandwich menu is our informal buffet menu, and after that is our formal indoor/outdoor buffet and a sit-down menu. The menus have in common aside from the tasting great the fact that when we cook your hog fresh on site all of your guests will fall head over heels as they see the beautifully juicy and aromatic pig as it slowly roasts in the background, the great visual experience of a roasting hog will kick-start everybody's appetite.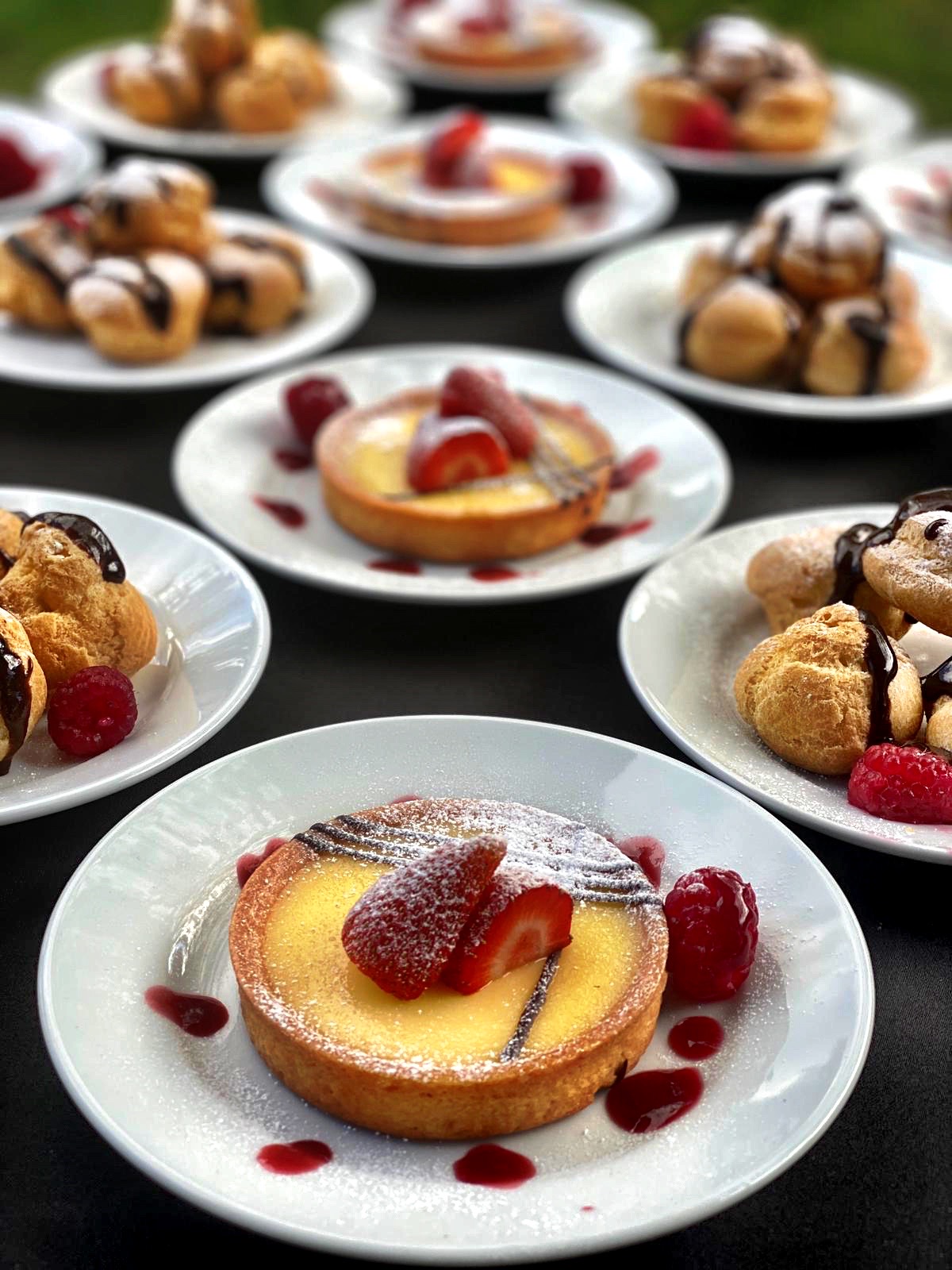 It doesn't have to be a pig that we cook to get peoples appetites in gear, as we mentioned earlier there's actually a great choice of meats that we can cook for you. Whichever you pick we know your guests will be impressed by the theatrical display, and the great taste and quality of the food itself, most importantly. The immense hog roasts that Spitting Pig have mastered can be had by themselves or with the large number of side dishes, canapes and desserts that we include in many of our menus, the choice is all yours and we know you'll want to inject your own flavour into each menu and with all the different options to choose from you'll definitely be able to make one of our menus your own.
We know that you'll love the catering we have, but something else customers love about Hog Roast Loughborough is that we're the only hog roast company in Derby to put our machines out for customer hire. Which means if you want a hog roast but don't want to pay the price that comes with personalised event catering you can simply book a machine for hire from us, for much less the cost.
Hiring a machine is as easy as picking up the phone and booking one, because from that moment we'll deliver the machine to you with gas to power it, we'll give you a quick guide on how to use the machine, and then it's all yours for the event or period of hire. Hog roasting is as effortless as cooking can be and we haven't had a customer yet who's had trouble making their own delicious hog roasts.
That's what Spitting Pig Derby do in a few words; you'll find much more detailed information if you have a look around the rest of the website.