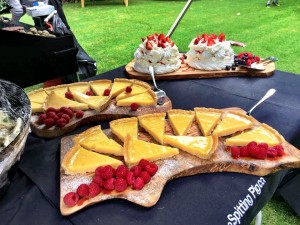 When Hog Roast Swadlincote caters your special occasion, we make sure that the food tastes just as good as it looks – and boy, do we make it look good! Our chef and the whole team will go the extra mile to ensure that your guests will be delighted with the food presentation and then more than satisfied with how it all tastes. Since we use high-quality, fresh, local ingredients, we can blow our own trumpet and say that it tastes fantastic, from the succulent, tender meat to the garden-fresh salads and vegetables, and even to the condiments that we use. Whether you're planning on us making our simple yet divine pigs in buns for your event, or a full meal with meat, veg and potatoes or even a variety of courses, with homemade starters and desserts as well as a buffet main, you can be sure that we will wow your guests with the presentation and tickle their taste buds with our mouthwatering dishes.
Hog Roast Swadlincote was recently asked by Vivien to cater 40 guests at a party with a variety of foods, including a slow-roasted lamb, sausages, burgers, salmon and fresh salads. While we love a good old hog roast, so much that it's part of our name, we can cater with so much more, like Vivien's choices, and have plenty of menus for you to look through. We also offer alternatives for guests with dietary needs, so you rest assured that all of your guests can enjoy our lovely food, like vegetarians, vegans and those with a gluten intolerance, just as long as we have advance notice.
On the day of the party, we set up our equipment and decorated the serving tables with fresh flowers and plants, as well as some lovely serving platters displaying our scrumptious desserts of lemon torte and strawberry vacherins, surrounded by fresh berries. By 1pm, we were ready to serve food that almost looked too good to eat!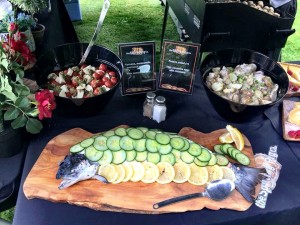 Let Hog Roast Swadlincote add the personal touch to your party or event while providing top-notch service and fabulously tasty food. You simply won't regret it.