A delicious hog roast is suitable for just about any special occasion you can think of, so when you're next planning a party or event, why not let Hog Roast Blythe Bridge cater? We can take over the reins and you can relax with your guests and enjoy succulent meat and trimmings together with them. Whether you're organising your wedding day meal, a milestone birthday party, corporate event or anything else, a plated hog roast meal or our amazing pigs in buns could be just the ticket.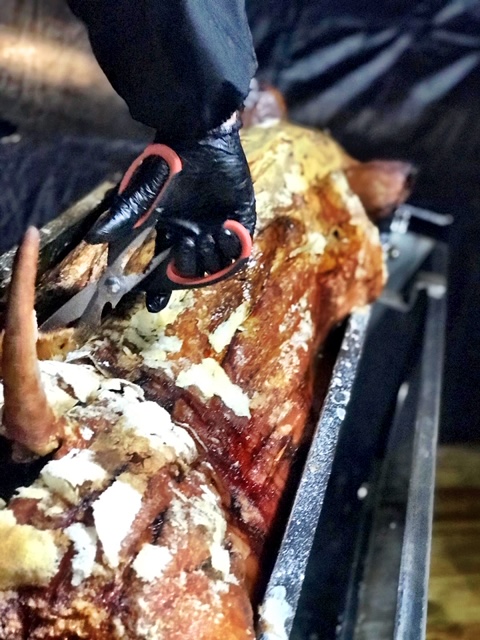 Nevertheless, if you're thinking of other food being served, either instead of a hog roast or in addition to one, Hog Roast Blythe Bridge will surpass your expectations there too. From spit-roasted chickens, turkeys, beef or lamb to our popular Southern Slow Roast, where we cook you three marinated meats and prepare four hot or cold sides that you choose, to barbecued meat, we have some fabulous options for carnivores. If you're inviting non-meat eaters, however, our chefs can whip up something suitable and tasty on the day, as long as we have advance notice. We can also cater for other special diets if needed too, like gluten-free or dairy-free, and with plenty of additional dishes on offer, like starters, sides, desserts and canapés, we can easily make sure that all of your catering needs are tended to.
Hog Roast Blythe Bridge catered Sandra's private party earlier today, where our chef and catering assistant cooked a feast for all the senses with a scrumptious traditional centrepiece hog roast. For most of her guests, Sandra asked us to make pigs in buns from the meat and crackling, which we add to soft, floury bread rolls and wraps, together with dollops of apple sauce and sage and onion stuffing (both our homemade favourites). However, Sandra also needed a gluten-free option for her sister, and when we told her she could enjoy the pigs in buns too, just with her own special bread rolls that we'd take along, she was very happy.
After the pig sizzled away for hours on end at Sandra's home this morning and then had a short rest, our team sliced off the crackling and meat into trays and by the time everyone arrived, we had a great feast ready for them.