Last weekend saw the Hog Roast Strelley team hit the road once more for another one of our cooking adventures! This time, our dynamic catering duo, Stewart and Joel had been hired by Sandy to serve up one of our super tasty menus at the gender reveal party she had been dreaming of since seeing those two red lines for the first time months earlier.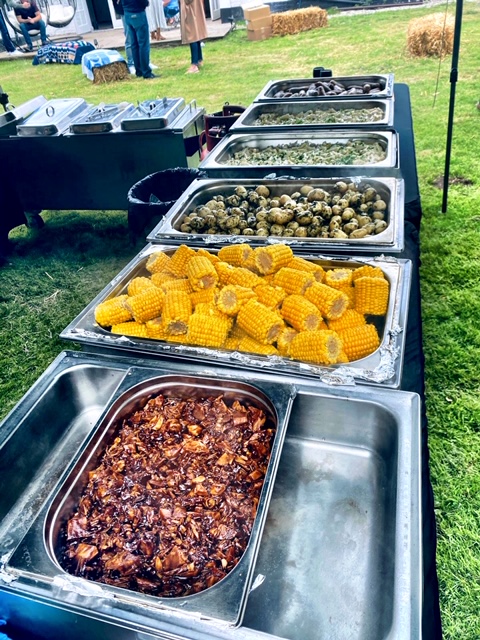 You might not know this, but gender reveals are actually one of our favourite events to cater for – it's true! There's just something so magical about watching an entire family come together to share in the excitement of finding out whether they are about to welcome a baby boy or girl into their lives! Plus, after having been out of commission for what felt like forever, Hog Roast Strelley was determined to make this celebration one for the memory books!
With 70 people to cater for (13 of whom were children), Sandy had her work cut out when she first started searching for an inclusive spread that would be suitable for both her meat-loving and vegetarian guests. But fortunately, after discovering Hog Roast Strelley, her worries disappeared immediately!
For this occasion, our catering manager, Martin had recommended our private party menu 3, which offers our clients an informal hog roast buffet-style meal, served with plenty of side options and salads to choose from.
Luckily for Sandy (who had planned for the event to take place in her garden), the weather was on its best behaviour. This also made the task of prepping a flavour-packed feast a whole lot easier for Stewart and Joel! Preparing for the guests' arrival, the pair worked quickly and efficiently to whip up a lip-smacking menu which centred around one of our succulent, slow-roasted pigs that had been cooked to perfection while half-covered by our famous homemade savoury stuffing. The feast also included gourmet sausages, creamy mac and cheese, corn cobbettes, fresh salads and for vegetarians, the team served pulled jackfruit in a sticky-sweet BBQ sauce.
Sandy and her family had a wonderful time, and she has since been in touch to thank Hog Roast Strelley for ensuring the event went off without a hitch. What's more, she has already spread the word about our dedicated catering team to her loved ones!