It's not just us regular folks who have been keen to make the most of this lovely summer weather before it disappears for another year, and over the last few weeks, the Hog Roast Uttoxeter team have been run off their feet with catering for a huge number of corporate events – you won't catch us complaining though! A few weeks ago, Miriad Products' Personnel Officer Charlotte reached out to us to discuss an outdoor event she was planning to host for her fellow colleagues at the renowned wholesale leisure distribution company based in Derbyshire.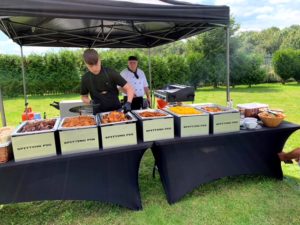 Since Miriad Products' entire business model focuses on making the most of the outdoors and travelling to various locations using their different motorhomes, it was decided that our southern slow roast menu which draws from popular American food culture would be the most suitable for the event. Left in the capable hands of our highly skilled catering manager, the Hog Roast Uttoxeter team began tweaking the menu to suit the brief that Charlotte had given which meant switching disposables for our high quality, environmentally friendly wooden crockery and cutlery and tailoring the food options to include the side dishes and mains the client wanted.
Making their way to Dove Valley Park in Foston, the Hog Roast Uttoxeter team were led to a spacious green field on the company premises where they quickly began setting up for the outdoor feast. As the temperatures rose into their high twenties, the catering crew worked tirelessly to cook up a mouth-watering buffet of BBQ pork butt, cajun spiced whole roast chickens and fall off the bone Louisiana sticky pork ribs which were accompanied by Memphis style crunchy coleslaw, green leaf salad, cajun spiced sweet potato wedges and fresh corn cobette's dripping with warm melted butter. Vegans and vegetarians were offered a meat-free alternative of grilled vegetable skewers with the option of added haloumi and tzatziki sauce which paired nicely with the array of freshly-made gluten-free rolls.
The 45 guests made their way to the field in the early afternoon where they were quick to fill their plates with the delicious grub on offer and many returned to the gazebo for second helpings of their favourite dishes. The day ended on a high and Miriad Products have since reached out to thank us again for an amazing day.