March 20th (aka spring equinox or vernal equinox) marks the first day of spring here in the UK, and to celebrate the change of the seasons, our client, Ainsley, had booked Hog Roast Heanor's team of talented caterers to serve our BBQ Menu to her friends and family.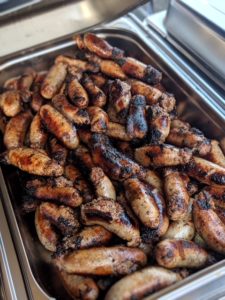 This particular menu is one of our best-selling feasts, especially around spring and summertime, as, unlike regular barbeques, our menu offers a gourmet element, which makes it an appealing option for those striving to impress their guests with some truly delicious food. Ainsley was also won over because of this aspect, and she especially loved that our sausages and beef burger patties are handmade from scratch using prime British meats (sourced from award-winning local farms with ethical accreditations) and a secret blend of seasoning, giving our dishes a more intense and frankly irresistible flavour all-round!
She was also really pleased to see that we offer fresh and tasty meat-free dishes for those following vegetarian and vegan diets, which made it really easy for her to accommodate the needs of her non-meat-eating guests. For them, she selected our BBQ pulled jackfruit option, which sees the "meaty" fruit served in a rich hickory sauce on gluten-free rolls with vegan coleslaw and a choice of inclusive side options.
As an added extra on this occasion, Ainsley had also asked for us to include our refreshing tarte au citron and summer pudding dessert options on the menu for her guests to choose from, which we were more than happy to do.
Ainsley's small and relaxed event was held in her back garden on Sunday afternoon, and we're pleased to say that the weather was on her side! The pleasant weather helped to cut down the cooking time of the burgers, chicken kebabs, marinated spareribs and gourmet sausages, leaving Hog Roast Heanor more time to focus on the presentation of the coleslaw, mixed fries and Greek salad.
Ainsley and her guests were over the moon with the selection our Hog Roast Heanor team had cooked up, which made for an exciting addition to the low-key and intimate event!