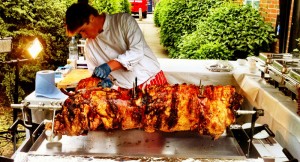 Welcome to Hog Roast Alfreton! We are the most reliable hog roast company in Alfreton an accolade that we've had for more than 10 years now. Hog roasting has literally taken off in the event catering industry, with people in Derbyshire and beyond choosing this non-conventional, spectacular and totally delicious type of catering option.
If you're looking for a catering service whether it be for a small family gathering or a large corporate affair that you've got planned, know that the team here at the hog roast Alfreton are standing by to cater for your every requirement. The Spitting Pig will bring our experience, flavour and expertise to your special occasion, to give you such amazing memories.
Hog Roast Alfreton Catering And Extensive Menu Options
In addition to being able to cater for groups of all sizes and events of all types, we also offer a hog roast-catering package where our expert team will come to your venue and prepare, cook and serve the food for your special guests. This will mean that you don't have to worry about a thing and you can actually enjoy your event and the delicious food that we provide alongside your guests. Our ultimate goal is for you, as the host to have a stress free day and for your guests to experience a fantastic event. The Spitting Pig are the specialists in hog roasts, this is our profession.
Our menu options are extensive and cater to a large variety of dietary requirements. Choose from a selection of wholesome salads and succulent meats to delicious appetisers and sweet deserts that will have your guests coming back for seconds. Regardless of if you'd like to avail of all of these options or just the hog itself, know that all of the food that we provide is made using locally and freshly sourced ingredients.
We can customise our menus to cater for gluten free or vegetarian options too. We offer a kosher and halal menu on request. Should you require a bespoke menu, we will aim to meet your requirements, just call us to discuss your options and we will be happy to help. We also remember those guests with a sweet tooth and offer a range of delicious deserts.
Why Choose Hog Roast Alfreton?
Our values are simple – Quality, ingredients, freshly prepared, that delivers and assures abundant flavours. We will make a marvellous focal point at your occasion that will leave your guests speaking about it for many years to come. We pride ourselves on our hearty and delicious portions, where you can be certain that none of your guests will feel hungry after sampling our fabulous menus. Hog Roast Alfreton delivers the ultimate in catering services with no hassles, leaving you to enjoy the occasion, safe in the knowledge that your guests are in skilful hands.
Hire A Hog Roasting Machine In Alfreton
Want to take control and show off your roasting skills to your guests? No problem! You can hire a roasting machine from us and be the very own creator of your hog roast Alfreton feast. If you'd like, we can provide you with the cooking gas and the hog itself along with the machine. And we'll even let you in on our secret to cooking the perfect hog if you're lucky!
We've catered for many special occasions, Indoor and Outdoor events, Garden Parties, Christenings, Weddings and Birthdays, so you can have the utmost confidence that our experience and knowledge will deliver the finest catering service.
For more information on any of the above, be sure to contact our team today and find out how we can make your event one that will be remembered for all the right reasons.