The Best Hog Roasts In Leek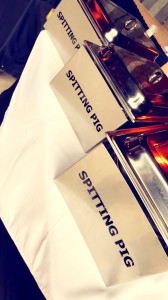 Do you want to make the catering at your next event a complete knockout? Would you like your guests to enjoy a catering experience like no other? If so, Hog Roast Leek is here to ensure that both of your wishes are granted.
As the best catering service in all of Leek, we have over ten years experience in catering events with freshly sourced hog roasts that make for royalty-worthy feasts. As well as being mouth-watering good, the slow roasting of a hog over an open spit creates a totally unique, enjoyable, interactive and memorable dining experience for all.
A Catering Option That's Suitable For All Types Of Occasions
We can cater to all types of events, both big and small. So, if your catering requirements are for a small family gathering or a large corporate function, our team can take care of all your needs. Our spit roast hogs are not only suitable for private parties and wedding receptions, but also adapt well for charity fundraising events and evening entertainment.
Our team comprises of professional chefs who have mastered the art of hog roasting, specially trained catering staff that serve with a smile and event planners that know how to get things done. These skills combined with an extensive menu of succulent meats and wholesome and freshly prepared sides make for a catering extravaganza that will be remembered by all your guests.
Our professional hog roast catering teams take care of everything, to include laying the tables and supplying the dinnerware and plates, to preparing the food in front of your guests, then clearing everything away afterwards. This will enable you to take care of other important aspects of your party or occasion, to be an enviable host to your guests, with the least amount of distraction and stress.
Large choice Of Menu Options Available
All of our pigs are locally reared and sourced and then cooked for several hours in our mobile spit roasting machines until succulent and tender, with the crunchiest of golden cracklings. Our trained chefs cook the pigs on site, then slice and serve with delicious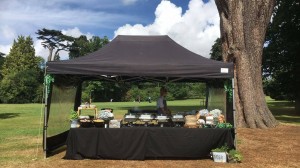 apple sauce and stuffing in a fresh bread roll. You can also select from Roast Lamb, Roast Beef or Chicken that we cook on the spit, depending on the number of guests at your event.
In addition to our unequalled selection of mouth-watering and appetising meat dishes, we are able to suggest a delicious choice of Spicy Thai Chicken Kebabs, Peking Duck Wraps and Barbequed Beef Burgers, plus a superb selection of flavoursome vegetarian dishes.
We supply a bespoke meat roasting service to suit the specific requirements of each event that we attend. We always welcome enquiries, please either telephone us, use our contact form on our website, or email us to discuss your individual requests. We will be happy to prepare you a quotation.
Hire A Hog Roast Machine In Leek
While the services of our specialised team are there to take advantage of, you also have the option of hiring a hog roast machine from us. By doing so, you can be the creator of your very own feast and wow your guests with your roasting skills. All of our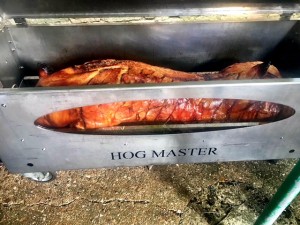 machines are safe and easy to use and come with a DVD with comprehensive instructions should you need it.
Our rates are extremely affordable so affordable that you might just be surprised how much it costs to hire the services of the best hog roast Leek company has to offer.