The Best Hog Roasts In Loughborough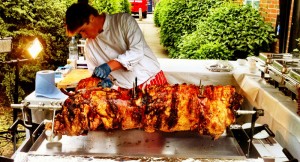 Welcome to Hog Roast Loughborough, the most trusted catering company in Loughborough and all of Derbyshire. Our company is known for providing individuals and businesses with the tastiest hog roasts in the whole county for their events.
We've been serving Derbyshire locals for over a decade now and the experience and expertise that we've acquired in this time has enable us to truly perfect the art of hog roasting and all that this unique dining experience entails. We are caterers that visit and provide a service at many locations across Derbyshire and so long as we can physically access your location, remote or in the centre of town, we will happily cater for your special occasion or event.
A Unique Catering Experience For All Occasions
In choosing a hog roast for your next event, not only are you ensuring that your guests will be treated to a mouth-watering feast of tender meats and a great spread of freshly prepared and expertly put together accompaniments. By choosing the Spitting Pig as your caterer of choice, you'll also ensure that your guests actually enjoy the dining experience because hog roasting is as unique and enjoyable as it is delicious.
For your convenience, we offer a wide range of menu options and hog roast packages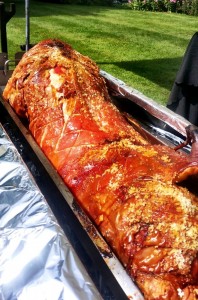 at competitive rates. You can choose to have our team of expert chefs cook your hog right in front of your guests and have our catering team serve it to them, or you can opt to hire a hog roast machine from us and cook the hog yourself, you decide!
Our Hog Roast catering services include the supply of disposable plates, napkins and cutlery, however should you wish to hire china crockery and stainless steel knives and forks, this can also be arranged. Our friendly, polite staff will deliver, roast, carve, serve your Hog Roast and then clear away after food service, to ensure that you have a hassle-free day.
Why Choose Our Hog Roast?
A Hog Roast will offer a theatrical food experience to your clients or guests, and the aroma and flavours will soon have their mouths watering. Hog Roast Loughborough Company strives to push the boundaries of Hog Roasting and to be the ultimate catering service provider in Derbyshire, if not in the whole of the UK. We aim to impress your guests, friends and family with our famous Hog Roasts, which are perfect for every occasion, be it a summer or winter event.
Be it special party requirements, fantastic food or great service that you are searching for, then the Hog Roast Loughborough Company is your one stop shop. We always endeavour to ensure that your Hog Roast event will go down in history and be an extremely special day. We are able to tailor our organisation and menus to suit your specific requirements, and pride ourselves on our courteous, polite staff and bespoke, discreet catering services, so that you can mingle with your guests or colleagues.
Call Our Team Today For More Information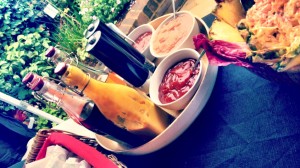 For more info on how the best Hog Roast Company in Loughborough can make your event the one that's remembered. Give us a call so that we can talk you through all of our hog roast packages, and come up with something that suits your requirements and your budget too.