The Best Hog Roasts In Market Bosworth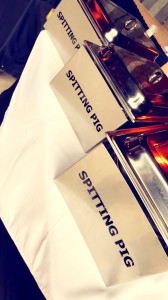 Do you have a special occasion coming up? Wondering what kind of food to give to your guests? Why not push the boat out and invite us to roast a whole hog in honour of your celebration? As the best hog roasters in Derbyshire, we've been cooking delicious hog roasts in Market Bosworth and the surrounding areas for the last ten years, so you can be sure that we've got hog roasting down to a T.
Not only do we have the experience and the expertise, but we've also got access to some of the freshest produce in Derbyshire, meaning that you get top quality food whenever you book the services of Hog Roast Market Bosworth.
Why Not Go The Whole Hog?
In mediaeval times, a whole hog would be spit-roasted over an open fire, to feed enormous families and entourages of servants, all of whom had to be catered for. Nothing beats the taste and savour of a whole pig that has been roasted to perfection. In modern times however, we have specialist equipment that has been individually designed for ease of use, by our professionally trained chefs.
Each roast hog will serve around one hundred people, with masses of succulent meat and loads of crispy, crunchy crackling to go around. If your event requires a smaller hog roast, or perhaps you would prefer a Roast Lamb or Chicken as your choice of meat, we can accommodate your requirements.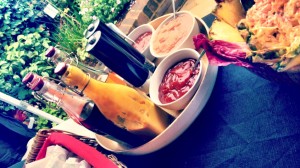 When the hog is spit-roasted, the meat will be so tender it will virtually fall apart as you carve it, however if you're not totally confident to carve yourself, we can supply a professional chef to perform this task for you.
Hog Roast Catering For Small Parties To Large Events
Our experienced hog roasting company is confident that we provide the best hog roast in Derbyshire and, as Market Bosworth's premier hog roast caterers, we offer one of the best choices of menus in the area. A Roast Hog is always a crowd pleaser and is guaranteed to make your event a memorable occasion. The full Hog Roast is a cost-effective way to cater for a large group, event or party, laden with flavour and served in a variety of ways. We can cater for any size of party from 3 up to thousands, no matter how many guests at your event.
While we obviously specialise in roasting whole pigs, we also offer a range of foods to suit all kinds of tastes, dietary requirements and, of course, budgets too. Whichever of our menus you choose, you can rest assured that you'll always be getting top quality food, lovingly prepared and cooked by expert chefs on the day of your party.
Have Fun And Hire One Of Our Famous Roast Machines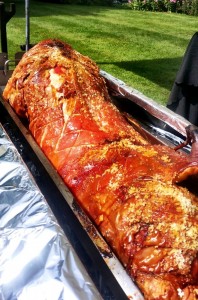 If you'd like to experience cooking a hog roast for yourself, our famous hog roasting machines are available for hire at a very reasonable price. They come complete with an instructional video, tips for juicy roasts, and cooking gas too. We'll even deliver it to your venue and collect it when you've finished, plus you can choose to order your meat from us, so you can be sure that you'll be cooking top quality local produce.
To find out more about our hog roasts, event catering or hog roast machine hire in Market Bosworth, give us a call today. Our professional and friendly team are on hand to discuss your requirements and make sure that you throw a party that your guests will always remember.