The Best Hog Roasts In Nottingham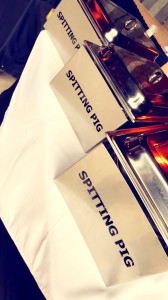 People in Nottingham and all over Derbyshire County are choosing hog roasting as their catering option for a variety of different reasons. Not only are hog roasts mind-blowingly delicious and satisfying, they also provide for a memorable and interactive dining experience like no other.
We have been proudly serving Nottingham residents with the freshest and tastiest hogs for well over a decade now. To say that we've perfected the true art of hog roasting in this time is an understatement! We've got the experience and know-how to create hog roast feasts that are all encompassing and totally enjoyable.
Hog Roasts Are Suitable For All Scenarios!
Whether you're in the early stages of planning a class reunion with 30 of your pals or a corporate team building event with 130 of your colleagues, the team here at the Spitting Pig can make your event a real success. Our team of pros and extensive menu options make hog roasting suitable for all type of events whether they're scheduled to take place indoors or outdoors.
Our fully catered, Hog Roast option is the perfect way to feed all of your guests, leaving you free to relax, socialise and mingle. This is an ideal option for corporate events, charity functions, parties and weddings.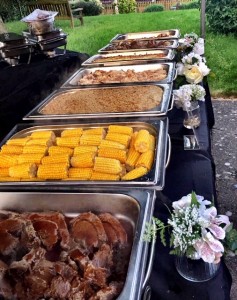 Even though our rates are extremely affordable, we never compromise on quality and all of our clients can rest assured that they receive nothing but the best when it comes to the quality of our meats and other provisions. We only deal with local suppliers and all of our meats and ingredients are freshly sourced from them to ensure a consistency in quality. Remember that we can also provide alternative meats, Roast Lamb or Poultry plus several exotic food choices too, or as a variation, try our vegetarian menus. In addition to our selection of roast meats, we can also provide a wide selection of side plates, salads and condiments, to accompany your choice of menu.
We provide several options available, from the DIY Hog Roast machine hire to a fully catered event option, where our professional chefs will prepare and cook your food, with our smartly attired waitresses serving the food to your guests. Please take a minute to browse through our different options on our website drop down menu pages, to decide which Hog Roast option best suits your requirements. We are able to cater for both large or small events, where maybe more than one machine or pig is required, or perhaps even several lambs or pigs for spit roasting. If you would like a price to discuss any specific dietary requirements, or any other variations, please contact us by telephone, email or by using the form on our Contact Us page.
Rent A Hog Roast Machine And Get Cooking!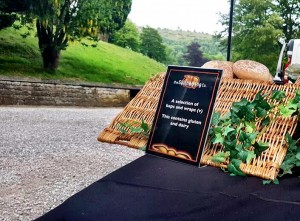 Our hog roast packages vary from those that include the services of our chefs and catering team to those that just provide the hog, the cooking gas and the hog roasting machine. The latter option allows customers to get in the kitchen and show off their own hog roasting skills to their guests. Are you brave enough to give it a try? We'll provide you with an instructional DVD and some of our hog roasting secrets if you are!
To rent a hog roasting machine for your party or event, or if you would like to hire us to provide catering services, we'd love to hear from you!