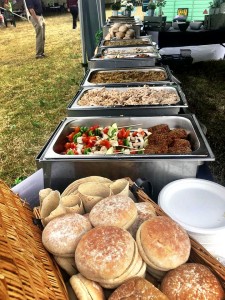 Hog Roast Chesterfield recently had the pleasure of catering an event for Ashgate Hospicecare in Old Brampton, which provides care and support for families, patients, and carers across North Derbyshire. For the event, James asked us to provide our simple but sumptuous Menu 1 of pigs in buns – also known as hog roast rolls – for 500 people. This is our classic hog specialty, where we prepare a locally-sourced pig at your venue and then slow-roast for several hours while we watch over it. After a rest, we carve away, slicing off the salty crackling and making piles of that and the meat slivers into trays, ready to fill bread rolls and wraps. But it doesn't end there! We top with our gorgeous, tangy apple sauce and tasty sage and onion stuffing, and then let you choose the condiment you want to add. It's heaven in a bun (or a wrap, if you prefer!)
James also asked us to cook both veggie skewers and veggie burgers for any vegetarian guests, or even for those who didn't fancy the hog roast. We have lots of additional and alternative options, so if you choose Hog Roast Chesterfield to cater your party or event, all of your guests will be served delicious food and no one will go hungry.
On the day of the event, our Hog Roast Chesterfield team arrived hours before service would begin, and set up our extra-large gazebo to shade us from the hot summer sun. We were cooking a few pigs to feed hundreds of people, so after setting up our equipment, we scored the pigs all over, smothered them in water and salt and then it was time to set the temperature and turn the hog roast machines on. Before long, the people around us began to smell the wonderful meaty smells and we were asked many times when they would be ready. You can't rush a hog roast though, so they would have to wait!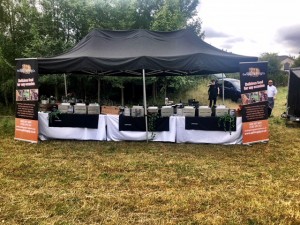 A few hours passed by and after we had decorated our serving tables with lovely pot plants and wooden boxes, it was soon time to cook the veggie skewers and burgers, dish up the sauces, slice the rolls and get ready for the queues.