It was a romantic week for the team at Hog Roast Market Bosworth, who found themselves the hosts of a miniature Valentine's night at a local pub. The owner James has a small function room that hardly ever gets used, and in the recent weeks he has had the idea to serve food and use the spare room as a dining area. To try it out he decided to have practice go, and hired the team at Hog Roast Market Bosworth to provide a spectacular three course meal, and sell tickets to customers. He advertised the event as a Second Valentine's Day for couples.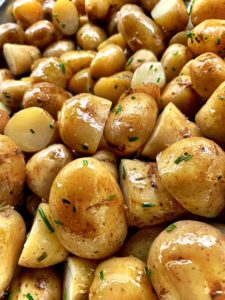 In the few weeks prior to the event, we spoke with James about the particulars. As romance was our theme, he decided to stick to a traditional three course meal. We therefore suggested our Private Party Menu 6 with the exclusion of canapes. We also discussed the number of guests, time, date and location, making sure that we have every last detail covered.
It was half seven serve time on the day of the event, so made sure to arrive with plenty of time to spare, in order to allow for our slow cooking methods. The art of roasting a pig slowly over the course of several hours is the key to achieving our succulent flavour with the crispiest of crackling. That being said, we always make sure to arrive on site hours in advance to ensure this. What's more, we prepare all our food from scratch on site, using only fresh, raw ingredients, so you can see the entire cooking process!
When serve time came around, and the couples were all in their seats, a Smoked Salmon Starter was brought to the table, before a Hog Roast Mains was served buffet style in accompaniment of a seasonal veg medley and roasted new potatoes with homemade onion gravy. The chef from Hog Roast Market Bosworth also prepared an exquisite dessert, his special Sticky Toffee Pudding.
In the end all the couples thoroughly enjoyed their meals and James was satisfied that his venue would make a good eating establishment. He thanked us as we tidied away our mess discreetly and disposed of any waste offsite.