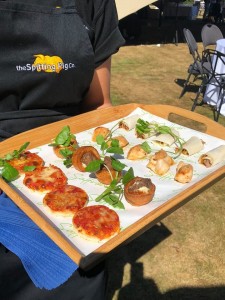 While Hog Roast Repton caters all kinds of local events and parties, we are often asked to cover functions further afield, either by our customers or by other franchises. Just recently we were asked to cater Sandra's event in Sandwich in Kent.
Hog Roast Repton offers amazing hog and spit roasts but sometimes we are asked to provide a different kind of menu, which we can always do. We love to offer variety and our menus are full of options for you to choose from or to mix and match if you prefer, and we have all kinds of choices for special diets too. If you need a dish for a vegetarian, vegan or gluten-free guest, just say the word, and if you have any guests on other diets, we will do our utmost to cater for them as well.
For Sandra's event in Sandwich, we were asked to provide a choice of four canapés for forty guests, such as our mini pizzas and mini Yorkshire puddings filled with the finest beef fillet and a horseradish dressing. We have lots of canapés to select from, including veggie ones, so there's something for everyone. For the main course, we were asked to cook our fabulous Southern Slow Roast Menu, which features your choice of three meats from a possible five and four accompanying dishes from a possible seven, to be served on china plates to 60 guests. Sandra chose to have bbq pork butt, whole roasted chickens and Creole-spiced lamb, as well as additional sausages, and with side dishes including freshly-prepared salad and coleslaw.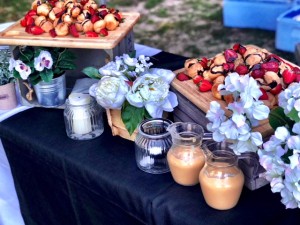 On the day of the event, Hog Roast Repton arrived hours before service to start slowly roasting the marinated meats at a low temperature. We believe that presentation is key when catering, so after setting up our equipment and ensuring the meats were sizzling away, we decorated the serving tables with plenty of lovely plants, flowers and candles, arranged around wooden crates. By 3pm, it was time to serve the canapés and by 5pm we were serving the main. We even provided a choice of two desserts for 40 of the guests, including our delicious profiteroles with strawberries.