David had been sailing all his life and was as much a part the of fixtures and fittings at his local sailing as the trophy cabinet-in fact, according to his wife, he spent more time there than he did at home! David didn't feel it, but he was about to turn 60, so his sailing chums at the club decided they had to host a party there to mark the occasion! David loved the idea of being guest of honour for the evening, especially when they informed him that they had hired Hog Roast Chesterfield to do the catering! Having hired us for an event in the past, the sailing club secretary didn't even consider asking anyone else to cook for David's 60th and she called us straight away!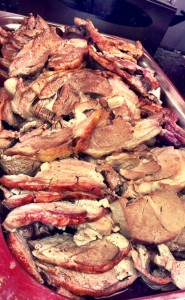 As the seafaring birthday boy had always been partial to lamb, they opted for this rather than a traditional hog roast, seasoned with rosemary and served with our own recipe dill and mustard sauce. Rosemary and garlic roast potatoes and seasonal veg were selected as the ideal companions for the meat main course and as it was such a special occasion, they also decided to treat their longest serving member with a selection of our elegant canapes!
When David and his wife arrived, Hog Roast Chesterfield's super professional front of house staff were waiting on the balcony to welcome him with a platter of pate en croute, smoked salmon and mini quiches, which was the perfect way to get his 60th birthday party started! Meanwhile, our diligent chef and catering assistants were stationed in the main function room, and after spending hours freshly preparing the rest of the menu, they were making sure everything was presented perfectly for David and his 100 guests to enjoy!
It was a truly magical evening for David and he had a tear in his eye when he thanked everyone for making such an effort for him. Even though the sailing club was like a second home to him (or first home according to him wife!), the ambiance and Hog Roast Chesterfield's fabulous food that evening elevated the familiar surroundings to a whole new level. As much as David wasn't looking forward to turning 60, he couldn't have asked for a better party to celebrate the occasion!