The Best Hog Roasts In Buxton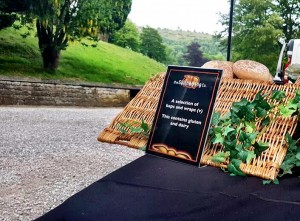 Welcome to Hog Roast Buxton! We are the number one hog roasting company in Buxton, and all across Derbyshire. As you've probably guessed, our speciality lies in hog roast catering and our ten years in business is evidence that we've served some pretty satisfied customers during that time.
The high quality of food that we provide coupled with our diverse menu options, our competitive rates and our dedication to exceptional customer service is what sets us apart from- all other hog roasting companies. Our ultimate goal is to provide each and every one of our customers with the most amazing dining experience, no matter what the occasion or number of guests.
Extensive Menu Options And Catering For All Occasions
Our menus are event specific, and cater to events of all types including corporate functions, private parties, wedding celebrations and intimate gatherings. All you have to do is tell us about your event, inform us of your proposed number of guests and highlight any dietary requirements that need to be considered and we'll do the rest.
Featuring succulent meats including hogs and poultry to appetisers, desserts and side dishes, our menu possibilities are endless. All of the food that we serve is made using fresh and locally sourced ingredients as anything less would not be up to our standard.
Hog Roast For Corporate And Team Events
We have been involved with organising and serving corporate events for over a decade,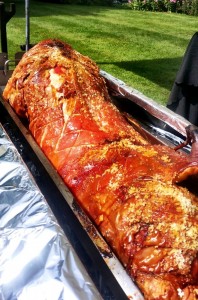 regardless of the numbers of attendees. Our hog roasts make a perfect choice for Company Open Days, Balls and Parties, especially where numbers are quite high but the budget must be taken into consideration. They offer a fantastic focal point and give a theatrical approach to the food event. If you need to impress your international customers or your existing business colleagues, the Spitting Pig Company hog roast in Buxton will cater for your every requirement.
Our specialities are state of the art, hog and spit roasts, which together with our combined catering experience allows us to successfully cater for over 400 functions annually throughout the UK. Having worked for a multitude of clients over the years, with very different expectations and briefs, we have an abundance of glowing references.
Our menus for corporate events are varied, according to your requirements. Our food is very visual, and may be presented in several ways. Choose from a roast pork snack in a roll that may be eaten whilst mobile and interacting with members of staff and colleagues, an indoor or outdoor buffet service, or perhaps a sit down meal or formal dinner.
While the Spitting Pig Company takes care of your corporate catering needs, you can relax or get down to important business, clear in the knowledge that we will fulfil your catering requisites.
Professional Team Of Hog Roast Chefs And Catering Staff
In addition to promising that you and your guests will enjoy a feast that's worthy for royalty, our experienced team of catering staff can make the whole event stress-free for everyone involved. They'll take the burden off you and ensure that all of your guests are well taken care of and fully satisfied with your succulent Buxton hog roast.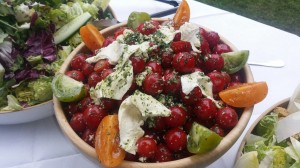 If you prefer to cook the hog yourself and feel there's no need for catering staff, that's totally fine too. You can hire a hog-roasting machine from us and be the master of your very own dining experience. All of our machines are easy and safe to use and we'll provide you with an instructional DVD just in case you're a hog roasting rookie that needs some pointers.
We believe in authentic, flavoursome and traditional hog roasts, delivered to our customers with enormous attention to detail and an exceptionally, high, quality service.