The Best Hog Roasts In Chesterfield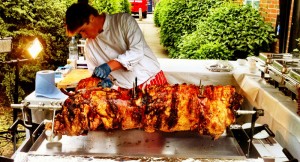 Do you want to make the catering at your planned event a stand out feature of the day and one that will have your guests talking about if for long after the event has passed? If so, there's very few options that can deliver on both counts like a hog roast catering experience can.
Let your guests get more involved in the catering at your event by allowing them the opportunity to see their food cook in front of their very eyes. A hog roast Chesterfield experience is like no other in the sense that the appetising sight and delicious aroma of slowly roasting hog cannot be replicated.
The No.1 Hog Roasting Company In Chesterfield
Spitting Pig has been proudly serving the people of Chesterfield and the wider Derbyshire area with an incomparable hog roast catering service for over ten years now. This time in business has allowed us to truly perfect our skills and today our team consists of the best hog roasting chefs and catering staff in the country.
Whether you're planning a small, intimate family gathering with five people or a large corporate function for 500 people, we can provide you with the best dining and catering experience that you could possibly hope for. Our team of experts can take care of every minute detail of the catering of your event allowing you the opportunity to relax, mingle with your guests and actually enjoy the event.
Extensive Menu Options At Affordable Rates
The menus that we offer are event specific and are tailored to suit occasions such as wedding celebrations, anniversary dinners, corporate hospitality functions and private birthday bashes. They feature everything from delicious appetisers and succulent hogs and poultry to tasty desserts and side dishes such as salads and dips.
What To Expect From Our Hog Roast Hire
Our specialist catering team will arrive at your event at a pre-agreed time to set up the equipment. Our meat is sourced from local farms and is of the finest quality. . We are able to set up our catering equipment either at your venue or at your home, depending on your event and the number of guests. The pork is prepared for roasting on our special spit roasting rotisserie. Our traditional, famous hog roast is cooked to precision, allowing several hours for the meat to spit roast, being basted at frequent intervals to ensure that it is roasted to perfection and to achieve the ultimate in tenderness and taste.
The hog roast will be carved straight from our hotplate directly onto your plates. The aroma and taste will ensure that your guests keep coming back for more. We also supply a wide range of accompaniments, including apple sauce, stuffing, plus a wide range of condiments and salads if required, and of course, not forgetting the crispy crackling! Should you require starters, side dishes and desserts, these can of course be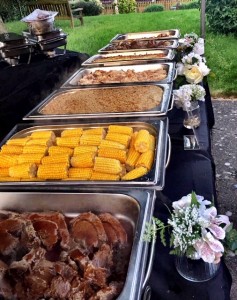 provided to ensure that your event is a great success.
Regardless of your preferences, know that all of our menus can be customised to suit dietary requirements and all of the food that we serve, from the hog itself right down to an accompanying salad, is freshly made and all ingredients are sourced locally.
No matter if your party or occasion is large or small, we can cater for numbers ranging from 3 to 5000 people. You can be confident that you can relax and enjoy your event, leaving all the hard work to us, safe in the knowledge that your hog roast will be an enormous success.