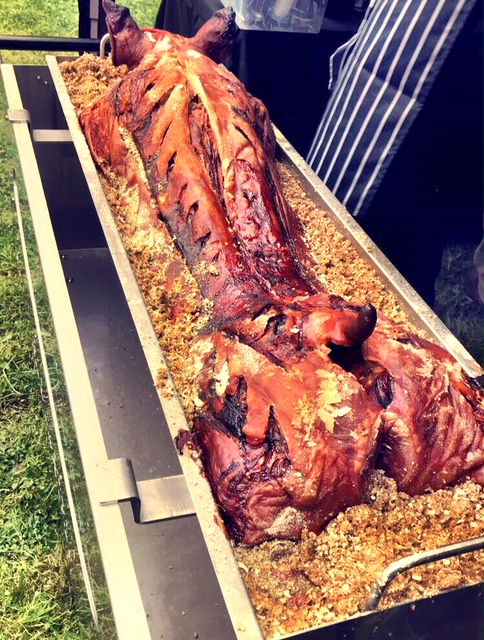 Rocester is a village with very ancient roots and if you would like to experience a cooking method that also has a longstanding tradition, there is no better example than a hog roast. This unbeatable method of cooking meat has endured through the ages because it produces such succulent and flavoursome results.
Here at Hog Roast Rocester, we have embraced this classic technique and added our own modern twist by combining it with contemporary menus that are great for any occasion. We also have the most state-of-the-art cooking equipment in the business and our compact, yet highly efficient machines can be transported to and used just about anywhere. This enables us to provide high quality freshly made food is any type of venue in Rocester, both indoors and outdoors. We only ever use the finest locally sourced produce and ethically reared meat in all of our dishes and our skilled catering team are capable of making everything from scratch on-site whilst the meat is being roasted slowly for several hours. Even if we are preparing a complex menu or cooking for a large crowd, we are always ready to serve right on time ready to impress our diners with our beautifully presented dishes.
Expect Only The Best From Hog Roast Rocester
Hog Roast Rocester's slow roasted pork is always a big at every event where we are asked to provide it, but however good our pork is, we release that our food needs to be as diverse as possible in order to meet the needs of all of our diners. Slow roasting isn't just a great way of producing perfectly cooked pork- it is just as effective with all different types of meat, so we are able to offer a tempting selection of alternatives, as well as a wide range of vegetarian and vegan dishes for all of our menu options.
Our buffets are great for birthday parties, company events and all manner of celebrations and for more formal occasions, our refined 3 course meals complete with canapes always hit the spot, whether you require catering for your wedding reception or another more formal event.
If you want the tastiest pork in Rocester, along with varied menus that cater for all tastes, the Hog Roast Rocester team can offer you the winning formula for your event catering requirements.