Here at Hog Roast Staffordshire, we have spent many years travelling the length and breadth of the county treating people to our varied contemporary menus and the best hog roasts in Staffordshire. Our approach to catering is as adaptable as our menus and we are able to cater for any type of event in any location in Staffordshire. We are just as comfortable catering for smaller indoor parties as we are for large-scale outdoor events and regardless of the type of event we are catering for or how many people we are feeding, we always freshly prepare every part of our menus using the finest locally-sourced produce and ethically reared meat available.
Whether you would like some of our signature hog roast sandwiches for a local festival, one of our beautiful buffets for an office party, or a sophisticated 3 course meal for your wedding reception or anniversary, we will have the ideal menu for your event.
Hog Roast Staffordshire has Signature Flavours To Leave Your Guests Amazed!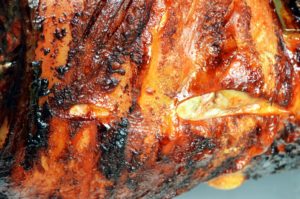 Because slow roasting is such a great way of cooking any large joint of meat, we are able to offer a range of alternatives to pork, such as sirloin of beef, spring lamb and free range chicken, all of which are sourced from ethical producers and just as high in quality and full of flavour as our fabulous pork. If you have guests with diverse dietary needs, you don't need to worry about them going hungry, because here at Hog Roast Staffordshire, we strive to be as considerate as possible to everyone's needs when we design our menus. We have a selection of tasty and inventive vegetarian and vegan options and we are able to make changes to any dish on your menu in order to cater for individual requirements.
When it comes to quality, variety and flexibility, you won't find a catering company in Staffordshire more qualified to meet your needs than the Hog Roast Staffordshire team and if you choose us to cater for your event, we can guarantee that you will have food that appeals to all of your guests and an unforgettable dining experience.