Themed parties are a great way to get your guests involved with the event by having them dress up a certain way and enjoy an evening of style and entertainment! Not only does adding a theme make the event better for your guests, but it can also make the planning stages much easier, as you have a central theme to use for the atmosphere and look of your event. Over the years, Hog Roast Alfreton have catered to parties of many themes, including decades, movie stars, childhood dream careers, and more. Here is one menu that goes well with a themed party…
In April, Hog Roast Alfreton was hired to provide catering for a themed birthday party. Our catering manager was contacted by Lauren to provide a menu for her 70 guests to enjoy, including a vegetarian and gluten-free option. Lauren wanted a casual menu for her guests to enjoy as part of the party, which featured a 'dress as your favourite decade' theme. The theme meant that the guests had been asked to dress up in costumes from their favourite era and the venue was decorated accordingly. A DJ had also been hired for the event and was set to provide an evening of music from the past!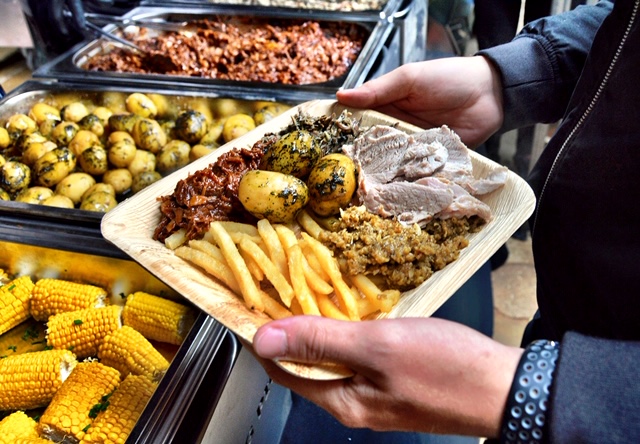 On the day of the event, the Hog Roast Alfreton team arrived at the venue in advance of the 7:00pm mealtime. We began by slow roasting the hog and ensuring that it was cooked to perfection, alongside the vegetable and halloumi skewers. The mains were served with a selection of side dishes, as well as fresh bread rolls and a gluten-free alternative. For the sides, we prepared seasonal salad dishes, homemade chips, corn cobettes, and mac and cheese. Overall, this menu went down a treat and there was something tasty for every guest to enjoy. The Hog Roast Alfreton team had lots of fun catering for this menu and the event was lots of fun!
Are you looking for a caterer for your upcoming private party? If so, look no further! At Hog Roast Alfreton we have over 7 different catering packages for you to choose from, with something to suit every style of event. To find out more, simply get in touch today. We hope to hear from you soon!