Traditional weddings will never go out of style, and they are an event that Hog Roast Chapel-en-le-Frith caters for regularly throughout the year. We have a delicious formal dining menu that is perfect for this kind of event, including three incredible courses and something for every guest to enjoy. Here is what to expect when you book in with Hog Roast Chapel-en-le-Frith's formal dining package…
Earlier this spring, Hog Roast Chapel-en-le-Frith was hired by a lovely couple to cater for their wedding. The wedding took place in Derbyshire and was a formal and traditional event, with the ceremony taking place in their local parish church. For the reception, our catering manager Martin was hired to serve a formal dining menu to 70 guests, ending with a drinks service for a toast. This was not a problem and the Hog Roast Chapel-en-le-Frith team got to work on preparing the catering right away!
On the day of the event, Martin and his team arrived at the venue with plenty of time to prepare for the 2:00pm mealtime. We began by serving the starters once the guests were seated, which consisted of a homemade soup of the day. This dish was creamy and delicious, and the side of fresh bread made it a tasty and filling way to start the meal.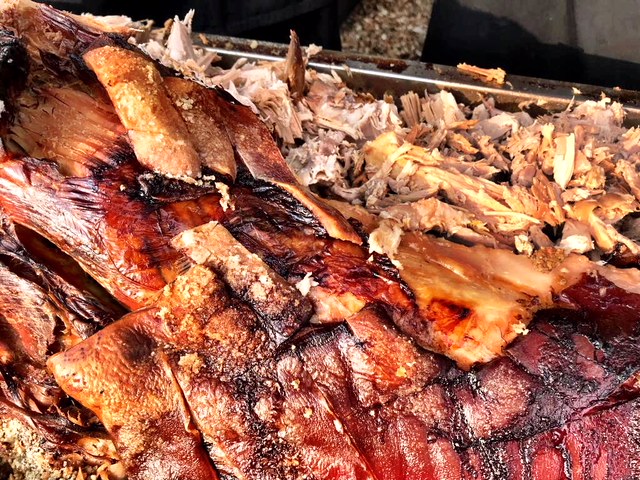 Following the starter, the guests enjoyed a classic Hog Roast Chapel-en-le-Frith slow-roasted hog, or BBQ pulled jackfruit. The main dishes were served with seasonal vegetables, roasted baby potatoes, sage and onion stuffing, fresh gravy, and crispy crackling, to create a delicious and varied main course.
To finish the menu, we served profiteroles and sticky toffee pudding for the dessert. Before the guests left their tables, our experienced waiting staff served a glass of fizz, allowing the guests to toast to the new couple!
Whatever kind of catering you require, Hog Roast Chapel-en-le-Frith has a menu that is ideal for you. No two weddings are the same, which is why all our wedding catering menus are entirely customisable to suit your needs. To find out more, simply give us a call today!