Summer is all about enjoying great food and a tipple or two outdoors and whether you run a pub, restaurant, pop up cafe or hotel, if you want customers to flock to your establishment over the summer months then you need to provide some enticing al fresco dining that makes you stand out from the crowd.
Many establishments offer creative spaces for outdoor dining, but what if you could find a creative way to cook outdoors too? If you would love to find a cost effective and impressive way to cater outside for your guests, the Hog Roast Clay Cross team can provide it.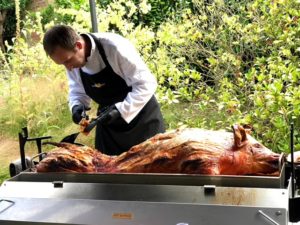 Our hog roast catering machines are incredibly versatile and can be used to cook a high volume of hot food in one go or prepare a range of different dishes all at the same time. You can easily prepare a full meal for your customers outdoors without even breaking a sweat. Not only will you be able to provide an eye-catching focal point for your customers, you will also be able to provide food that is just as exciting as the spectacle of it being prepared right there in front of them!
Hog Roast Clay Cross' flexible and affordable machine hire options give you the scope to rent a machine from us on a short -term basis for one off events, or on a longer-term basis for the whole summer season, for example. We will match your requirements to one of our machines, offering you equipment that fits your brief and enables you to achieve your outdoor catering goals.
Don't worry if you haven't used a hog roast machine before – our machines available for hire are incredibly user-friendly and our delivery team will make sure you are fully comfortable with setting it up and operating it when we deliver it to your premises.
Please visit our machines page to find out more about the range of equipment we have available for hire or contact us directly here at Hog Roast Clay Cross to discuss your event catering plans for your venue and which hire package would be the best fit for your requirements.