Weddings are always joyous occasions and at Hog Roast Ashbourne, we have been to many country houses and hotels to provide catering for guests sharing in the happy day. However, last week was our first time catering for an event at the Safari Park, where Richard and Julie's wedding reception was held. Although within the grounds, we were far enough away from the animals not to upset them with our cooking!
This was a fairly large event with 200 people in attendance and we were on site eight hours prior to the party's arrival. As the pig takes 4-6 hours to cook, we had time to prepare all of the other dishes in situ at the venue.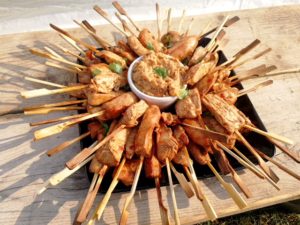 At 3pm, the guests started trickling in and taking in the wonderful surroundings. Hog Roast Ashbourne provided waiting staff to serve canapés consisting of: mini burgers, peaking duck wraps, tiger prawns, halloumi kebabs, mini quiches and handmade gourmet sausage. These seemed to go down very well whilst the bride and groom were off having photos taken before the sun went down.
When the guests were seated, the starter was served to the tables in the beautiful decorated conservatory room. Richard and Julie opted for the parma ham starter, which is served with a warm new potato and walnut salad and sweet apricot dressing.
The main course was served buffet style with our chef carving the Roast Pork served with applesauce, stuffing and crispy crackling, plus a whole roast salmon for vegetarians. Guests then helped themselves to jacket potatoes, roasted new potatoes in rosemary and garlic, a green leaf salad, Greek salad, coleslaw and a range of seasonal vegetables.
After the wonderful speeches, we served the desserts to the table: either chocolate torte or summer pudding, served with cream.
The same number of people remained for the evening reception and so we wanted to provide a lighter alternative to serve at 8pm. We therefore served up Thai Chicken Kebabs and Meaty Marinated Spare Ribs, plus a vegetable frittata, which also came with salad accompaniments.
That's a lot of food to contend with but the bride and groom could not thank us enough for the service we provided. A pleasure as always!