Earlier today, Hog Roast Ashby de la Zouch catered Alan's informal party locally, where our chef cooked up a storm for the twelve guests with a classic hog roast centrepiece which we carved up to make our signature pigs in buns. While we often cater large numbers, we can also easily cater intimate affairs too, so no matter how many guests you invite to your special occasion, know that we can do you proud with food that everyone will love, while making sure that personal tastes and special diets are covered too.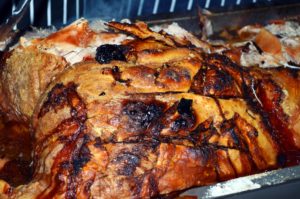 For today's party, Alan enquired about us cooking a hog roast for him and his guests, but he needed a gluten-free option for one of them. He was surprised but extremely pleased when we told him that everyone could enjoy our pigs in buns, as we could bring along suitable bread rolls for the guest with the gluten intolerance or allergy. Our other ingredients – the fresh, local, high-quality hog itself, our own-recipe duo of apple sauce and sage and onion stuffing – are all already suitable. With this in mind, Alan booked us in straight away and we looked forward to catering his event.
This morning, bright and early, our Hog Roast Ashby de la Zouch chef made her way to Alan's home and set up our hog roast machine in the back garden, as well as our gazebo and serving table. Preparing the meat was then our first order of business, which she did by scoring it, covering it in water to keep it moist and then massaging in plenty of salt, which produces the crackling. Then it was sizzling away, slowly but surely, for several hours, while she kept a watchful eye on it.
Nearer the time of service, our chef got on with slicing the bread rolls, including the gluten-free ones which were kept separate, dishing up our apple sauce and stuffing and arranging the condiments and serviettes on the serving table. By 1.30pm, after the meat had rested for a short while, it was finally time that our famous Hog Roast Ashby de la Zouch pigs in buns were served to Alan and his guests, who had been patiently waiting for the hog to cook to perfection.