This week Hog Roast Buxton had been enlisted by our client Andrew to provide some catering for a private function. The location was a spectacular manor house surrounded by acres of British countryside and rolling hill views. It's always lovely for us to be able to visit such places whilst catering with Hog Roast Buxton and we have to admit nothing beats enjoying a freshly made hog roast in front of a beautiful view.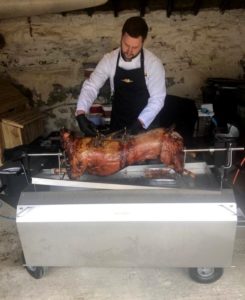 Andrew had requested our classic Hog Roast Buxton menu 1. As part of this menu he had chosen our spit roasted lamb and some vegetable skewers for the vegetarian option. Catering manager for this event was Martin who was sure to have his work cut out for him as Andrew had also requested six whole roasted chickens for his forty guests. Luckily our purpose built machines are capable of cooking multiple foods at once and so Martin would have no trouble preparing this menu!
With a serve time of 3'o'clcok there would be plenty to do and so Martin and his team quickly got to work. Although our name may be Hog Roast Buxton we are actually experts in the slow cooking of any and all meats such as beef, chicken and in Andrews case lamb. With lamb one of the most important aspects is the seasoning and we find that rosemary and garlic work particularly well and always go down as a favourite with our guests and so that's what we provided for Andrews event. As for the chickens, we are able to spit roast them when requested and often do this with some Cajun spiced seasoning. However, for today's events we had been asked to roast them alongside the lamb and so that's what we did!
It's safe to say the event was a success and all of the guests thoroughly enjoyed our Hog Roast Buxton food!