One of the best reasons to hire the team at Hog Roast Nottingham to cater for your event, is their remarkable hospitality expertise. Our teams are made up of experienced professionals that know what it takes to ensure service runs smoothly, and every one of the guests is taken care of, allowing you to relax and enjoy your event, rather than stressing out. This was the true appeal to our services for John, when he and his family wanted to throw a housewarming party.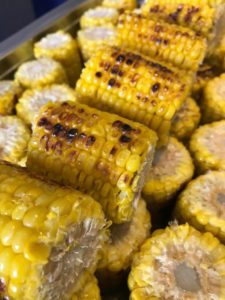 After the stress of moving house, John wanted to relax on the night of his party, so he came to us for help. We spoke with him about the event, and helped John devise a menu as well as find out anything we needed to know to make everything go according to plan. He wanted variety, and a few exotic flavours, so we suggested the Southern Slow Roast menu, as it offers three different joints of meat.
On the day of the event, our team from Hog Roast Nottingham arrived on site nice and early to begin preparations. First they set up their gazebo outside, under which they would be roasting the meats low and slow over the course of several hours. Later, once the guests had arrived, the food was served onto high quality disposable plates. For the selection of meats, we had the Fall off the Bone Louisian Sticky Pork Ribs, the Texan 24 HR Beef Brisket and the Cajun Spiced Whole Roast Chickens, along with the Cajun Hot and JD Smokey Sweet BBQ dips, as well as a selection of sides. Among the options were the Memphis Crunchy Coleslaw, the Corn Cobettes, a Seasonal Green Leaf Salad and the Cajun Spiced, Sweet Potato Wedges.
John enjoyed the evening relaxing with his family and friends, rather than worrying about whether they're having a good time. And he and his guests enjoyed the wonderful spread put on by the team at Hog Roast Nottingham. Once everything was done, our team tidied away their mess discreetly and disposed of any waste offsite.