The barbecue is a staple of British summertime; a perfect event that brings everyone together the enjoy the sun (when it stays) and some of the best kinds of foods in good company. But we've all had the nightmare barbecue before. Someone forgets a lighter; the cheap disposable barbecue you've picked up isn't getting hot enough to cook; the best meats in the supermarket have all been nabbed by everyone else having barbecues; or too many chefs over the barbecue end up spoiling the whole affair.
A barbecue is the best meal around when it comes together properly, but sometimes it can so easily turn into a hassle. This summer make sure you avoid all of that and just skip straight to the best part: the incredible food. With Hog Roast Glossop you can forget the disposable barbecues and cheap burgers as we instead bring to you a premium grade gourmet barbecue feast that will give you the thrill of a classic British barbecue without any of the work.
Our barbecue range is an incredible turn on the classic summertime favourite. We cook using the same machines we cook our hog roasts on, meaning we can cook up hundreds of pieces of meat all at once, and maybe even throw on a hog roast too to enjoy some perfect salty pulled pork rolls too! These machines just get a far better cook on your barbecued foods than your standard supermarket disposable grill, and the quantity in quality that they can provide is just unbeatable.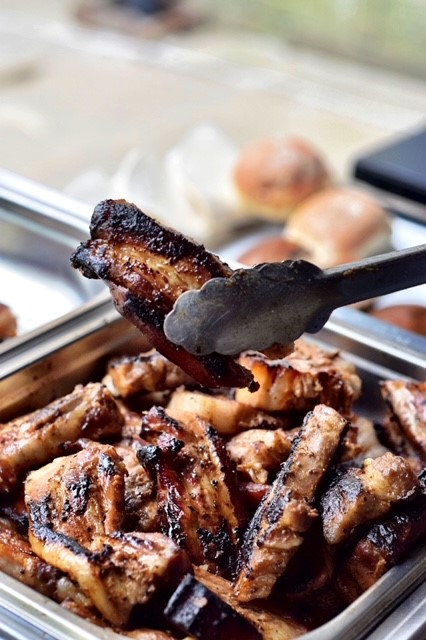 For your barbecue the Hog Roast Glossop team will come to a location of your choosing, be it indoors or out, and get straight to work preparing your favourites with our own Hog Roast Glossop stamp of quality on them. Enjoy handmade burgers, gourmet sausages with gluten free rolls, chicken drums, veggie skewers, grilled halloumi, fresh salads and coleslaw to go along with your roll, potatoes prepared every which way, and maybe even a summery dessert or two if you've not filled up on burgers and sausages enough! We'll take care of everything so that you can simply enjoy the sun and the company with a roll in your hand and a drink in the other!
Just call today and enjoy the best barbecue in the nation!