Hog Roast Stenson'S latest clients were Potterheads Bill and Cindy. The loved up couple wanted to give their guests a party to remember, so they immediately contacted the team to hire them to do the catering for their Harry Potter, magic themed wedding party.
The celebration was taking place at a beautifully gothic private venue. The Hall was a stunning location, it was a place surrounded by tall trees and rugged countryside, and the clients designated this Hogwarts for the day and decorated it accordingly. There was plenty of space for Chef Martin and the catering equipment, he was able to work in a corner of the large hall and enjoy the magical ambience while producing the enchanting dishes for the guests to enjoy.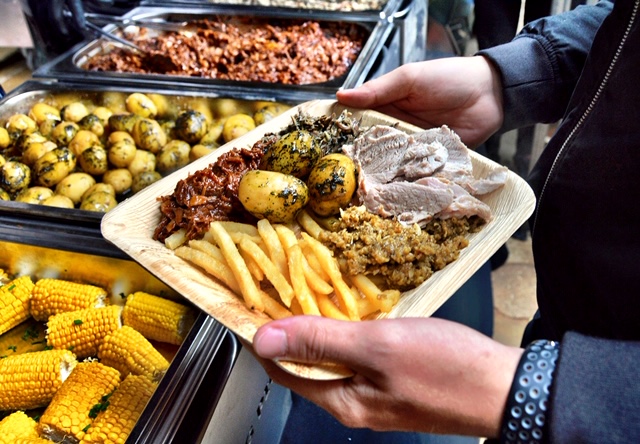 Bill and Cindy worked with the Hog Roast Stenson team to come up with a suitably bewitching menu for their 30 guests to enjoy. These dishes were then created by Chef Martin at the venue on the day of the event, so that at the 7pm serving time the food was at its most fresh and tasty.
The main attraction at the buffet table was the Classic Hog Roast, the slow spit roasted pig was expertly scored and sizzled by Chef Martin and then served with crispy crackling, homemade stuffing and apple sauce. Along with this tasty treat there was lots of other tempting treats. There was grilled vegetable and halloumi skewers, plain grilled vegetable skewers and BBQ Pulled jackfruit. Finishing off the buffet was piping hot seasonal vegetables and warm new potatoes in an herb butter.
The enchanting meal was well received by the guests and clients Bill and Cindy. There was very little waste from the buffet, but what waste there was, was taken away by Chef Martin and disposed of in a responsible and safe manner.
The event was a spellbinding success and everyone at Hog Roast Stenson wish Bill and Cindy a lifetime of happiness together!