Getting all of your family and friends together to celebrate a big birthday bash may not be on the cards at the moment, but that wasn't going to stop the Doyle family from doing what they could to make their son Lee's milestone 18th birthday a special occasion. Since the birthday boy apparently loved nothing more than roast pork, his mum and dad thought treating him to his very own hog roast feast was a great idea! His parents and two younger brothers were also rather partial to pork, so it was a very popular choice for all the family. Whilst dad Adam was very confident in his barbecuing skills and couldn't wait to take the helm, mum Sarah was a tad concerned that slow roasting a whole pig all by himself (and making a good job of it!) may have been beyond her husband's culinary abilities! When they got in touch with us here at Hog Roast Marchington about hiring one of our machines for the occasion, we were only to happy to help – and to reassure Sarah that our equipment's incredibly user-friendly set-up meant that even someone with limited catering experience could look like a master chef!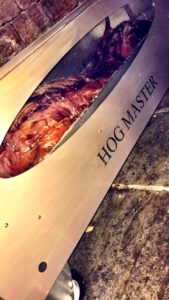 The Hog Roast Marchington team identified our robust and reliable Hogmaster as being the perfect machine for their needs – not only is it capable of slow roasting pork to melt-in-the-mouth perfection with the minimum of input required from the designated chef, it is streamlined enough to be set up in a back garden without it dominating the space. With Lee's mum reassured, and his dad pleasantly surprised by what great value for money hiring one of Hog Roast Marchington's machines turned out to be, they couldn't wait for it to be delivered to their home for their mini-party, and they were also very glad that we would pick it up and take care of cleaning it for them too!
Hiring the Hogmaster meant that the Doyle family were able to give their son the birthday treat he deserved, as well as making his dad look like a hog roasting pro in the process! Whilst it was a shame that not all their family and Lee's friends could attend, he still had a memorable 18th birthday, and according to him, the best pork he had ever tasted!