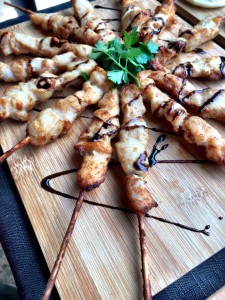 At Hog Roast Market Bosworth, there is no number of guests too big for us to serve. Our chefs are equipped with the best culinary knowledge, and the best Hog Roast machines to ensure that all of the guests we serve, are served the same, fresh, quality food at the same time, no matter how many people there are! If, for your big day, you want a succulent Hog roasted pig with crispy crackling and an exquisite array of side dishes that make the taste buds tingle, then give the team at Hog Roast Market Bosworth a call.
For Jackie and Ray, their wedding was going to be a big one, and they had a hell of a lot of mouths to feed with their number of guests reaching over 500 people. However, they didn't want the quality of the food to suffer as a result and so they asked us for help. Before the big day, our happy couple met with the team at Hog Roast Market Bosworth to go over every last detail, and ensure things ran smoothly on the day. Their wedding was going to be an all-day affair and so they chose our Wedding Menu 6 as it includes two different main courses served for lunch and dinner.
The team arrived a good six hours before serving time to make sure that everything was prepared for the guests when they got there. The tables were laid, the room was set, and of course the Hog was roasting and its scent wafting through the air when people started to arrive. Upon arrival, our friendly waiting staff were on hand with a selection of canapes for the guests to nibble at, including the mini beef or veggie burgers, as well as the creamy feta skewers or the spicy Thai chicken kebabs. A starter of smoked salmon was followed by the buffet-style mains where guests chose between the local free range chicken or the tender roast pork and crispy crackling. For desserts, a choice of fresh sticky toffee pudding or a lemon tart, which were served to the table.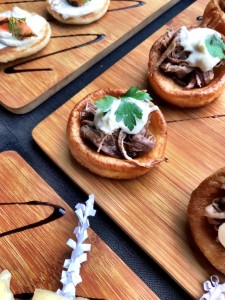 After a few more hours dancing and drinking, and once appetites were replenished, our evening buffet was served –a speciality of Hog Roast Market Bosworth, the whole spit roasted pig served with crusty bread rolls and a selection of sauces, followed by the serving of the wedding cake, sliced and dressed by our expert team. With over five hundred people fed, and our newly-weds dancing away, we discreetly cleared up after ourselves and left our satisfied guests to dance.