This November, Rebecca and Josh were getting married and they had a large number of guests attending. Josh had proposed to Rebecca a few months earlier while they were on holiday and they started planning their wedding straight away. In addition, they had invited more people to their after party and so needed to provide a substantial buffet in order to please all their guests. The couple finally settled on Hog Roast Burton Upon Trent, especially as they provided a vegetarian option so there was something for everyone at the buffet.
The Hog Roast Burton Upon Trent team arrived at the wedding in the evening when the partying was well underway and everyone was celebrating. They set up their stall outside the bar area of the wedding and began to cook the Hog Roast. Hungry guests eager for the food watched on in anticipation, waiting for the buffet to be complete. The Hog Roast team finally added the finishing touches to their buffet and opened it up to the wedding guests.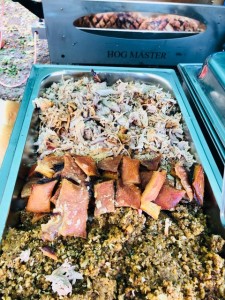 The guests thoroughly enjoyed the buffet and many of the guests returned for second and third portions. The Hog Roast Burton Upon Trent team provided a fantastic variety of side dishes the accompany the different meats that the team had slow cooked. In addition, the guests that required the vegetarian option really enjoyed the food that the Hog Roast team had cooked especially for them. There was something for everyone on the buffet and guests of all ages enjoyed the rustic charm of the Hog Roasted meat.
Rebecca and Josh enjoyed the buffet and were very impressed by the service provided by the team. They were very friendly and polite and ensured that they continued the formal atmosphere of the wedding, however, they also ensured that they provided an upbeat service that went along nicely with the party atmosphere of the evening.
Overall, the after party was a fantastic success and everyone really enjoyed the wedding. The couple had the time of their life and everything had gone to plan. They would definitely recommend the Hog Roast Burton Upon Trent team to their family and friends and would use them again in the future.