Between balancing a busy work schedule, ploughing through the dreaded household chores and juggling the stresses of everyday life, it can be difficult to find any extra time in the day to see your loved ones. But at Hog Roast Matlock, we know that spending precious time with your family is important, which is why we are proud to offer a comprehensive and affordable catering service that removes the responsibilities of cooking, serving and even doing the washing up from your endless list of things to do – giving you the perfect opportunity to get the family together for a much-needed catch-up. Sound good? We thought it might!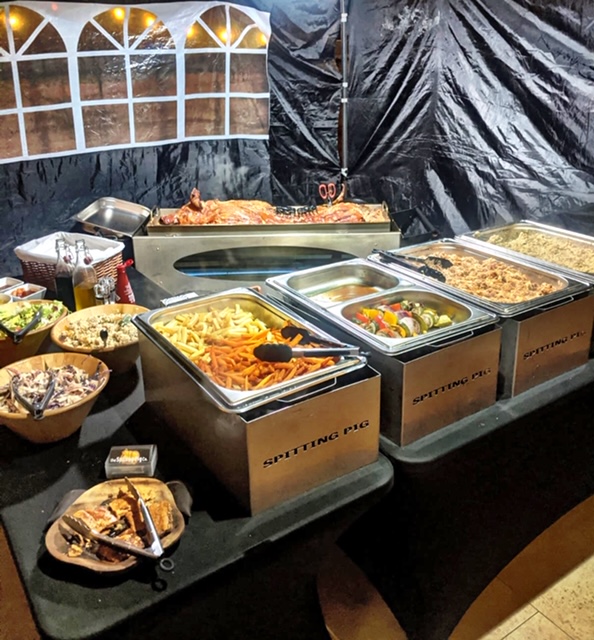 Recently, we received a call from Rowena who after hearing all about Hog Roast Matlock's outstanding reputation, was eager for our team to serve a heavenly hog roast at the intimate family gathering of 30 people that she had planned. Choosing from our wide variety of menu options with the help of our devoted catering manager Martin, the client had opted for our crowd-pleasing classic hog roast feast, complete with a selection of mouth-watering side dishes and a dessert to finish which were to be served using our environmentally conscious wooden crockery and cutlery.
Relieved that the catering was in the capable hands of Hog Roast Matlock, Rowena was able to enjoy the run-up to her event without worrying about a single thing and as the day edged closer, the excitement among the family only continued to grow. Fortunately, their wait was short-lived and last week the catering team arrived at the client's home where they began preparing for the much-anticipated dinner by beginning the process of slow roasting the pig well in advance of the guests' arrival. Soon, tantalising scents of juicy pulled pork, crispy crackling and savoury stuffing filled the air and with the meat being kept warm in our chafing dishes, Martin and the team turned their attention to the sides of creamy coleslaw, mixed fries, chilled Mediterranean vegetable rice and the meat-free alternative of grilled veggie skewers.
Rowena and her guests were in awe of the hearty spread that Hog Roast Matlock had served and after polishing off the main course, they were happy to indulge in the cheesecake finale.