While many would assume that hog roasts are exclusively designed to cater for events of a large scale, our team at Hog Roast Shirebrook is here to tell you otherwise! Thanks to our versatile and easily customisable service which sees us catering for both indoor and outdoor celebrations up and down the country, our team can turn any event into a special occasion no matter how many guests our clients plan to invite, and earlier in the month we were called in to help Tracey pull-off an intimate birthday gathering which was to be attended by 13 of her closest friends and relatives.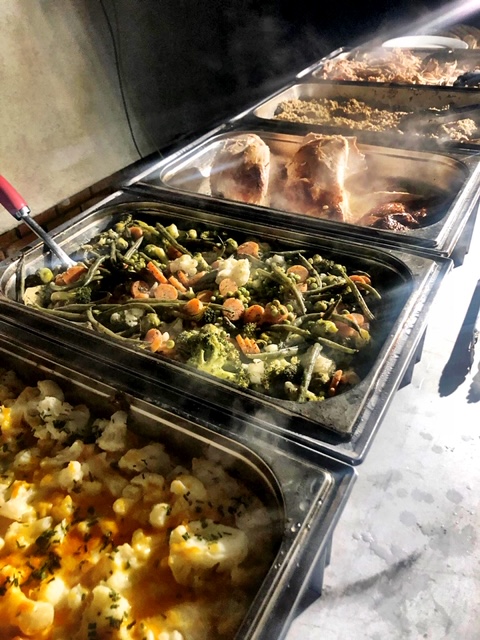 With only a small handful of guests to feed, Tracey had opted for an entirely bespoke menu which replaced our classic hog roast options with succulent pork and turkey joints paired with tasty side dishes of seasonal vegetables, baby roast potatoes, cauliflower cheese, soft and floury gluten-free rolls and wraps and of course: our legendary homemade gravy along with a few of the nation's favourite condiments. After finalising the details of the booking, Tracey ended the call feeling relieved that she had chosen to put her trust in Hog Roast Shirebrook and our skilful catering manager Martin; and knowing that the guests would be eager to hear all about the delicious menu, she immediately reached out to give them the good news!
As the day of the birthday bash neared, the enthusiasm among Tracey and her invitees only continued to grow and in anticipation of the evening's feast, they arrived at Lincolnshire's famous self-catering holiday cottage, North Gulham Farmhouse ahead of the Hog Roast Shirebrook catering crew. When our team arrived a few hours before the 6 pm serving time, the atmosphere was already buzzing with excitement and not wanting to leave the ravenous guests waiting any longer, Martin and the team threw themselves into preparing the mouth-watering spread.
On schedule as always, Hog Roast Shirebrook served up bountiful platters of irresistible food that the guests couldn't wait to get stuck in to, and with so much variety on offer, there was something for everyone to enjoy.