Birthdays and celebrations look different for everyone. Everyone is unique, so it makes sense for every birthday party to be unique too! However you choose to celebrate, it should be a day that is all about you, celebrating your life and achievements. Hog Roast Trowell recently catered for a slightly different style of birthday party, at Manna Farm in Nottingham.
Paul from Betel of Britain got in touch with our catering manager Martin to organise a birthday celebration in August. Betel of Britain is a facility for recovering alcoholics and drug addicts, aiming to create a safe environment for rehabilitation. Paul contacted Hog Roast Trowell to organise catering for a birthday event located at the Nottingham branch of the organisation. After a discussion, we decided that the Southern Slow Roast Menu would be ideal for the 110 guests to enjoy!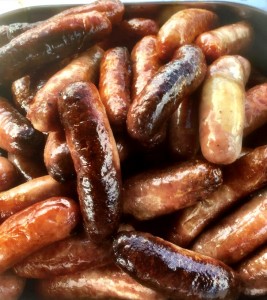 The serving time for the event was 13:00, so our team arrived on site early in the morning to ensure that our dishes were slow-roasted to perfection with plenty of time. We prepared a BBQ pork butt, a beef brisket, succulent sausages, and delicious Cajun chicken for the guests to enjoy. The meats were served with fresh bread rolls and wraps, including a gluten-free alternative. For the side dishes, we served potato salad and baby new potatoes, Greek salad, and crunchy coleslaw. We also provided BBQ pulled jackfruit for any meat-free guests. This created a delicious menu with a dish for every guest to enjoy!
We served the catering buffet style, on wooden crockery and cutlery, to create a rustic and informal lunchtime meal. Our menu was enjoyed by all and was the perfect birthday treat! With many components to choose from, it allowed every guest to create their ideal meal.
However you plan to celebrate your birthday, Hog Roast Trowell have a catering menu that is perfect for you. We have a catering style that is right for any event and a dish to suit every guest. To find out more, simply let our team know your party size, date, and location.