Motus Commercials is currently the UK's number-one commercial dealer of trucks, vans and pick-ups from a variety of well-known brands, but their speciality, first and foremost, is DAF Trucks. So, when Matthew, the managing director of the company's Stoke-on-Trent branch, received word that his dealership would be welcoming a batch of DAF's newly-released trucks and vans, he decided to host an all-day corporate event earlier on this month to celebrate the special occasion and introduce the new vehicles to the team.
Of course, an event of this magnitude just wouldn't have been the same without something tasty to dig into, and with 70 people to feed across a seven-hour period, Matthew had called in the big guns here at Hog Roast Corbridge to help handle the food for the event. With some direction and guidance from our catering manager, Martin, it was quickly agreed that the service should be split into two parts: a breakfast menu and a lunchtime menu to ensure the guests remained well-fed and happy throughout the day.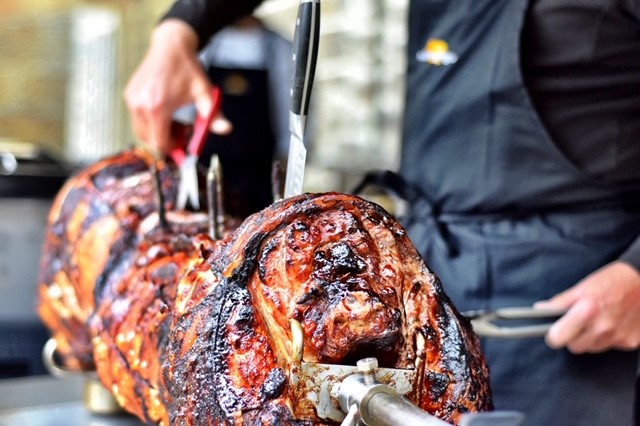 The breakfast menu, which lasted from 9 am until noon, consisted of sausage and bacon rolls, served on disposable plates with a selection of sauces. The Hog Roast Corbridge team had also prepared a buffet of tea and coffee for the guests to help themselves to, which, as you might have guessed, proved to be hugely popular! Meanwhile, Martin and the team had already made a start on cooking the Classic Hog Roast lunchtime menu, which included one of our signature slow-roasted pigs with sides of savoury stuffing, homemade applesauce, crackling and gluten-free rolls; along with a meatless alternative of grilled veggie skewers with Greek halloumi chunks, sweet and tangy chilli sauce, flatbreads and tzatziki dip.
The aroma from the sizzling pig filled the entire venue and fast became a talking point between the guests who, at 12 pm, began to form an orderly queue at the buffet table. Then, piling generous amounts of the pulled pork and sides onto disposable plates, the Hog Roast Corbridge team worked quickly and efficiently to get the food out to the large group, who thoroughly enjoyed every mouthful.