We could all do with a laugh every now and then, which is what makes stand-up comedy nights one of our all-time favourite events to attend! And with COVID having placed these nights of hilarity on the backburner for nearly 2 years, we're incredibly glad to see them making a massive comeback in 2022 – and we're even more glad that Hog Roast Glossop was recently invited to attend one of these shows.
While we might not have been in the audience, we were still able to witness the performances from our spot at the back corner of the room, where our team skilfully rustled up a tasty BBQ buffet for the guests who had bought tickets to the club. The event organiser, Richard, is someone we've previously had the pleasure of working with on a few different occasions, so once he had finished selling tickets and hiring performers for the night, Hog Roast Glossop was right at the top of his call list.
Working with our catering manager, Martin, Richard had been able to pick out his perfect menu in hardly any time at all, and when it came to serving it on the night, Hog Roast Glossop's catering crew impressed the client, as they always do, with their quick-fire cooking skills, attention to detail and sublime flavours. The guests, too, were thoroughly impressed with the gorgeously grilled meats, particularly our handmade British beef burger patties, which were served sandwiched between a brioche bun with fresh lettuce, a juicy tomato slice and melting cheese.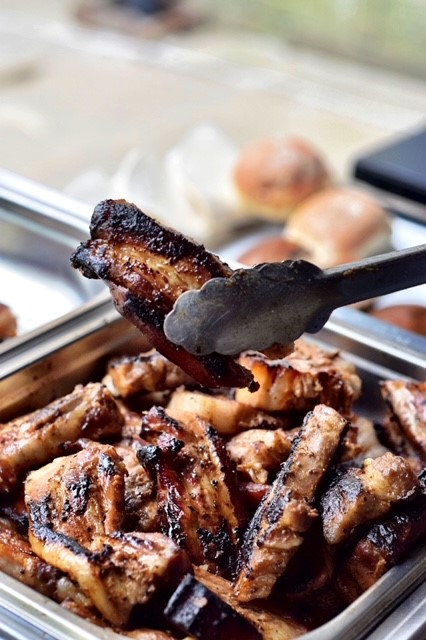 The char-grilled chicken kebabs, BBQ meaty marinated spareribs and our chef's own gourmet sausages went down a treat, also, and each paired perfectly with the side options of mixed sweet potato and regular fries, Greek salad and homemade coleslaw. For plant-based guests, our team served up a batch of grilled veggie kebabs with optional halloumi and BBQ pulled jackfruit rolls with vegan coleslaw.
With plenty of choices available, the guests had no trouble finding something that was suited to their tastes, and in between indulging in the delicious food, they roared with laughter at the comedic gold on stage.