Craft fairs are a great way to support small businesses while doing some retail therapy! They can take place on different scales, ranging from community fairs to countywide. Whether you are buying or selling, they are a fun way to spend a day- especially when they are combined with some delicious Hog Roast Glossop catering!
A Derbyshire based craft group plan seasonal fairs across the country, allowing locals to showcase their crafts and talents. Stalls range from jewellery, homemade clothes, baking, and everything in between! Catering is also available for guests, with Hog Roast Glossop being chosen on this occasion! After a discussion with our catering manager Martin, we were asked to provide our BBQ menu. This is ideal for larger events since there are many dishes to choose from, as well as a selection of tasty sides. What could be better than an afternoon of shopping, followed by a tasty meal served by Hog Roast Glossop…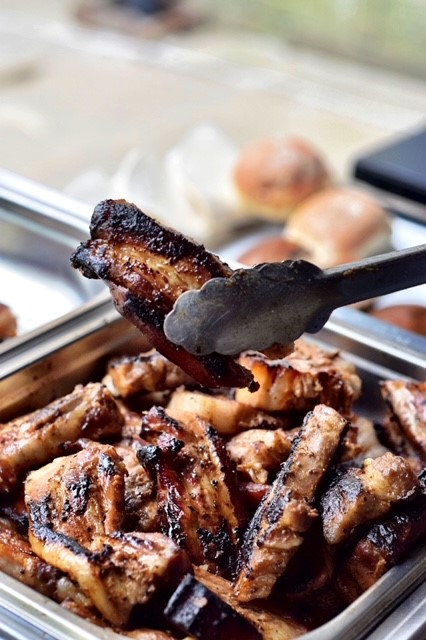 On the day of the fair, we got to work grilling our menu to perfection. The main dishes included British beef burgers, succulent sausages, chicken kebabs, and marinated spareribs, as well as halloumi and vegetable skewers for vegetarian guests. Alongside this, we also served Greek salad, homemade coleslaw, sweet potato fries, and freshly made chips. Overall this created a delicious menu that enticed customers all day since our catering looked and smelt delicious! Our meals were served on bamboo crockery and cutlery, which created a rustic feel that was ideal for the craft fair!
Once the catering was complete, we began to discretely pack away our serving station and gazebo. After wrapping up the leftovers we disposed of our rubbish and left the fair to continue!
Whatever style of event you are hosting, Hog Roast Glossop have the perfect catering menu for you. With over 7different menus to choose from and a selection of catering styles, there is something to suit any event. To find out which menu is right for you, simply let us know your party size, date, and location and we can do the rest!