When it comes to catering weddings, Hog Roast Matlock has catered countless over the years, providing tasty, wholesome food made with fresh, local ingredients. We've catered both formal and informal wedding receptions and breakfasts, in all kinds of locations and for both large and small groups of guests. Regardless of where you're holding your reception on your special day, and no matter how many guests you're inviting, we will do our utmost to cater it in style and with the food that you've always dreamed of featuring.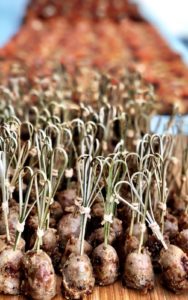 Hog Roast Matlock recently catered the wedding of Yvonne and Terry, who had asked their events planner, Jenny, to book our services. When we first spoke to Jenny, she let us know that the couple had in mind a three-course meal, preceded by canapés and a drinks reception. We can cater in different kinds of ways, and nothing is too much trouble, so we went over our various menus with Jenny and she went back to the couple to ask them for their preferences.
Soon after, Jenny called us back to let us know that Yvonne and Terry wanted six canapés to be served as the guests arrived, alongside glasses of bubbly and orange juice, and for the canapés, they selected gourmet sausages, mini pizzas and quiches, fillet of beef, Peking duck wraps and Thai chicken kebabs. We would then serve homemade chicken soup and crusty bread rolls to the seated guests, followed by a buffet-style traditional hog roast to be served as pigs in buns, and to finish it all off, we would serve our homemade sticky toffee pudding and lemon tart.
On the day of the wedding, our Hog Roast Matlock chef, catering assistants and waiters got to work setting up our equipment and then preparing a great feast for the couple and their fifty guests. The first order of business was preparing the hog to be roasted, and then setting the hog roast machine to low and watching over the beast as it sizzled away. Some hours later and we had a perfectly-cooked hog ready to carve, and lots of other delicious food ready to serve the hungry guests.