Of all the different events we are lucky enough to cater at with Hog Roast Bakewell, weddings are up there as our favorites. There's just something so lovely and magical about seeing two families come together and welcome each other and to see the happy couple so in love. We enjoy being able to add to this special day with our food as we know there is so much stress placed on weddings these days and here at Hog Roast Bakewell we like to do everything we can to take some of that pressure off and help to create the perfect day!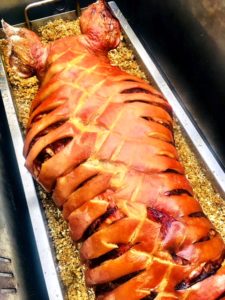 This Saturday was Myles and Charlotte's big day. They were both part of large families and so had been stressing out about finding a caterer that would be able to accommodate everyone. When we first got a call from Charlotte, we could tell she was almost at her wit's end. She told us she had already paid deposits for three different caterers and all had let her down after finding out she would be having almost six hundred guests. For such a large wedding she was struggling to arrange even the venue, so when we heard her struggle we stepped in to take some of the pressure off.
The perks of being a caterer that utilizes such an age old method such as spit roasting, is that we are able to easily cater for any number of guests. This is as a whole hog roasted hog can easily feed up to one hundred guests by itself, and with a large team behind us we can easily scale up any of our menus. Charlotte told us that hearing this news was practically music to her ears and she didn't hesitate in booking us for her big day!