Hog Roast Burton on Trent often caters birthday parties and whether you're celebrating your own milestone or that of a family member, partner or friend, a good old traditional hog roast is an amazing way to treat your guests. Whether we're making you pigs in buns, with tasty meat and crackling, apple sauce and sage and onion stuffing in fresh bread rolls, or a meal of meat, veg and potatoes, all smothered in our onion gravy, or to enjoy alongside different sides or even together with canapés, a starter and dessert, we have the perfect kind of hog roast for everyone.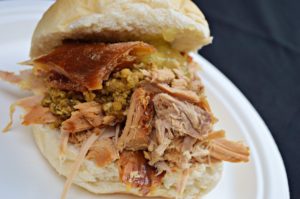 However, when it comes to providing alternatives, to cater special diets like vegan, vegetarian or gluten-free, we also have plenty of options on offer, and this is the case when it comes to catering personal tastes too. You may prefer a spit-roasted meat, like chicken, turkey, lamb or beef or a barbecue of burgers, sausages and ribs – we have lots of experience of both and we also offer an amazingly versatile menu with our Southern Slow Roast, which gives you three meats and four sides.
When Hugh called Hog Roast Burton on Trent to book his 55th birthday party, he knew he wanted one of our hog roasts so we could make his favourite dish for him – pigs in buns. Being a long-term repeat customer of ours, Hugh has devoured them time and time again at various functions, so what better way for him to celebrate his own birthday than with these scrumptious heaven-sent goodies.
On the day of the party, our Hog Roast Burton on Trent chef and team members set up in Hugh's large back garden. We'd brought along a medium-sized hog to feed the 60 guests and after setting up our gazebo, serving table and trusty hog roasting machine, it was time to prepare the meat. Once done, it was sizzling away in its own juices for several hours, while we kept an eye on it.
Nearer to the time of service, our team got the pigs in buns ingredients ready, freshly prepared some salads and then it was finally time to feed Hugh and his guests some seriously tasty grub.