When Sabrina and Ben contacted Hog Roast Leek about catering their wedding feast, they had in mind one of our sumptuous signature hog roasts sizzling away and impressing their guests. When we cook a traditional centrepiece hog, we spend time lovingly preparing the meat first, where we score it all over, smother it in plenty of water and then massage in lots of salt, which turns the skin into crackling. Then we cook for hours on end, at a low temperature, so it cooks through and through and produces mouthwatering, tender pork slivers and salty, crunchy crackling. Whether you fancy hog roast rolls or a meal of meat, crackling, potatoes, seasonal veg, apple sauce and stuffing, our hog roast is perfect for all occasions.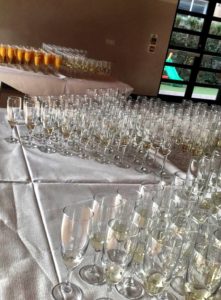 For their special occasion, Sabrina and Ben wanted pigs in buns to be the main feature on the menu, but they also needed some additional options that we would serve them and their seventy guests. On arrival, the guests would be treated to a selection of our handmade canapés as well as glasses of bubbly and orange juice. After being seated, there would be a starter of smoked salmon with prawns and avocado, served on a bed of curly endive and with a mustard and dill dressing. We would then serve the pigs in buns buffet-style and finish off by serving slices of the couple's wedding cake with berries, a coulis and fresh cream.
We catered Sabrina and Ben's wedding on Saturday, and in the morning, hours before service, our Hog Roast Leek chef and catering assistants set up at the venue, in the grounds of a lovely hotel. Before long, the hog was roasting away and sizzling in its own juices. Later on in the day, our team got to work making the canapés of gourmet sausages, dim sum, Thai chicken kebabs, grilled fillet of beef, feta skewers and mini veggie burgers and then welcomed the guests with plates full and plenty of drinks.
By the time our Hog Roast Leek hog roast was done perfectly inside and out, we had served the salmon starter and prepared dessert, and it was time to carve the meat to serve the truly tasty main course.