Planning to surprise his wife with an unforgettable party for her 40th birthday, James decided that if he was going to pull an incredible day out of the bag without tipping her off, then he was going to need some – scratch that – a lot of outside help! Luckily for him, he found the Hog Roast Cheadle website with just a few weeks left to spare before the big day, and after talking through our menu options and customisable packages with our talented catering manager Martin, James decided that our classic hog roast would be perfect for the 60 people who he had already managed to secretly invite to the event.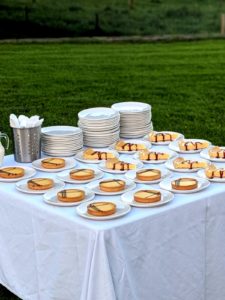 With James' wife none the wiser to his plans, he was able to relax knowing that the Hog Roast Cheadle team were handling everything from the disposable crockery, cutlery and napkins; to the serving tables and of course the mouth-watering menu. When the special day finally rolled around, James took his wife out for the afternoon which allowed the catering crew to secretly set up our lightweight and portable equipment in the couple's spacious back garden at their home in Hilderstone.
Making the most of the time the pair were away, the Hog Roast Cheadle team raced against the clock to pitch the gazebos and slow roast the selection of succulent meats which included a whole pig that was evenly scored for that perfectly crispy crackling, locally sourced free-range chicken, rosemary seasoned spring lamb and sirloin of roast beef. For those following plant-based diets, the crew also whipped up our famous homemade grilled vegetable skewers with optionable haloumi which paired nicely with the lightly floured gluten-free rolls and wraps; and for dessert, there was a citrusy lemon tart served with cream.
In preparation for the return of James with the birthday girl, guests began arriving at the couple's home where they were greeted by tantalising scents from the buffet table. Luckily, they didn't have long to wait before digging in, and when James' wife realised that her hubby had gone through so much in order to throw a surprise party for her milestone birthday with all of her loved ones, she was blown away.