Our friendly, dedicated professionals at Hog Roast Darley Dale look forward to attending every kind of party or event that we're asked to cater and always go the extra mile to ensure that our customers and their guests are more than satisfied. We've spent many years perfecting our menus to include not only the hog and spit roasts that we're famous for but also plenty of other options to cover varying personal tastes, bigger appetites and special diets too. Whatever your culinary needs, we can do you proud and wow your guests, regardless of whether you're hosting a formal do or an informal gathering, regardless of its location, and regardless of the number of people you might be inviting.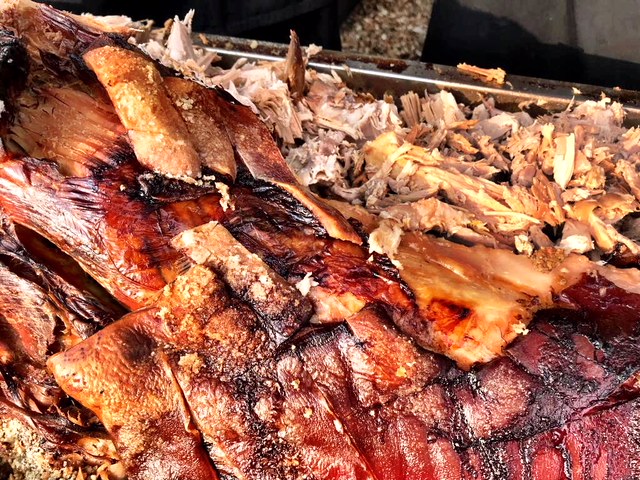 Take a look at our array of menus and you'll see that we offer alternatives like barbecued and marinated meats, vegetarian and vegan options, and speciality menus like our new loaded fries, as well as our much-loved Southern Slow Roast and winter warmer menus. You'll also see a great range of additional dish possibilities including homemade starters, desserts, sides and canapés and if you'd like to design your own menu, we can help you do so if needed or you can simply mix and match items between our menus. A Hog Roast Darley Dale meal is a feast for all the senses and a delicious treat for everyone, so whatever your needs, ask us how we can make that happen and we surely will.
When our long-term customer Joshua asked Hog Roast Darley Dale to cater his private party at home with a small group of friends, he knew exactly what he wanted us to serve – piles of our amazing pigs in buns, which he has enjoyed several times in the past. Nevertheless, he was concerned about one of his guests needing a gluten-free option, so when we told him that our pigs in buns can easily be made suitable just by us taking along gluten-free bread rolls (or wraps if preferred), he was thrilled.
Our chef catered this party by himself yesterday and after cooking up a storm with a fresh, high-quality pig, he served Joshua and all of his friends gorgeous food that they devoured with relish and the gluten-intolerant guest was delighted that he could eat the same as everyone else.