The Hog Roast Eastwood catering team has spent over three decades sharing our love of spit roasts with thousands of clients and their guests. We take pride delivering an unrivalled experience forged on the love of fantastic food, and since our customers are at the heart of everything we do, we're always delighted when they add a glowing review to our ever-growing collection of testimonials, or better yet, entrust us with their future events.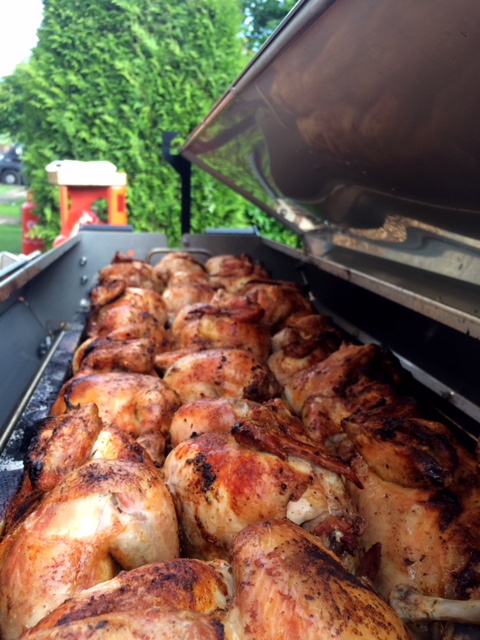 Over the weekend, our team had the pleasure of catching up with Oliver and Abby who were celebrating their first wedding anniversary with an intimate family get-together. Having been so impressed with Hog Roast Eastwood's service at their nuptials last year, the pair were keen for us to handle the catering this time around too, and after taking some time to look through our range of menu options, they decided on our southern slow roast feast.
Each of our menus can be tailored to meet whichever brief our clients set us, but when it comes to laid-back, private celebrations, like the one Oliver and Abby had planned, our southern slow roast is perfect. Inspired by classic American cuisine and served in traditional buffet-style, the menu is a great way to spice up any event.
Turning up at the couple's home early on Sunday morning, Hog Roast Eastwood set to work immediately by pitching the catering gazebo in the back garden and preparing the trio meats which had been pre-marinated in our secret recipe rubs. Over a low flame, the BBQ pork butt, Texan 24 hour beef brisket and Cajun spiced whole roast chickens sizzled away until it was time to serve. To complement the succulent meat dishes, the team had also whipped up generous platters of creamy mac and cheese, seasonal salad and corn cobbettes which dripped with warm melted butter.
Just as they had been the year before, Oliver and Abby were ecstatic when Hog Roast Eastwood presented them with the final result, which had the guests almost drooling as they arrived! As the party got into full swing, everyone eagerly munched away on their gluten-free rolls which were spilling with luscious meats and condiments and some shared their hopes that the happy couple would turn hog roasts into an anniversary tradition.