Hog Roast Radbourne was absolutely delighted when wedding coordinator Megan from Mere Court, contacted them about catering for a wedding. Catering manager Martin from the Hog Roast Radbourne team worked closely with wedding coordinator Megan in order to ensure that the team would serve delicious dishes that would absolutely delight the happy couple.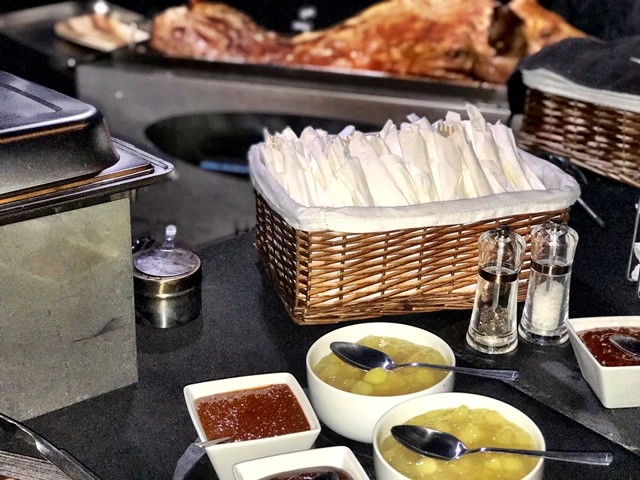 The wedding reception had a guest list of 100 hungry people and Megan and Martin wanted to make sure that the menu would be reflective of the diverse guest list and have something that would appeal to all. As per the clients request, the team from Hog Roast Radbourne would make up takeaway tubs for the guests at the end of the evening so that there was no waste and so that the guests would not be hungry. This of thoughtful touch was very much adored by the team; they thought it was a lovely idea.
The menu for the wedding catering included: Classic Hog Roast with all the trimmings, the team were thrilled with this as they feel that the Classic Hog Roast is an absolute wedding essential. The menu also included: grilled vegetable skewers and also grilled vegetable and halloumi skewers.
As the serving time was 9 pm the team from Hog Roast Radbourne had to arrive at Mere Court by 3 pm, this is because the team prepared and cooked everything fresh on site. The team had to work together closely in order to be ready on time. Fortunately the team are experienced and pulled together; everything was ready in time and looked absolutely wonderful! The clients, Megan and Martin were absolutely thrilled with the work the team had done.
Once the guests had enjoyed all there was to offer and had taken away the takeaway tubs full of delicious offerings, the team worked quietly to tidy away any rubbish and their equipment. As part of the bespoke catering package the clients have plumped for the team would dispose of all the rubbish in a safe and responsible manner. The event was a massive success!