If you're planning any kind of party or event where you need delicious, homemade food served, you certainly can't go wrong with Hog Roast Eckington. Over the years, we've happily catered every kind of special occasion you can think of, including wedding receptions, retirement parties, birthday celebrations and corporate functions and in terms of the latter, that could be anything from a huge conference to an office Christmas party. Whether you're inviting hundreds of delegates or a handful of staff members, we have something to satisfy all of your guests and not just the hog roasts that we're famous for.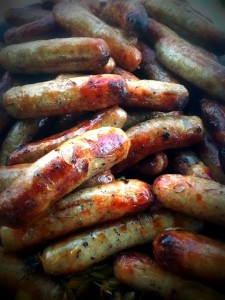 You may well be thinking of featuring a main course of a traditional hog roast centrepiece, either made into our hugely popular pigs in buns or as part of a meal with vegetables, potatoes and all the trimmings you know and love, but if you'd prefer something completely different, we can easily do that for you instead. We're also well-known for spit-roasting your favourite meat, such as whole English lamb, sirloin of beef, chickens or turkeys, and we can cook a mean barbecue that's full of our chef's own sausages, British beef burgers (100% beef no less), kebabs and ribs, but which also features plenty of other food too, like fresh salads, homemade coleslaw and chips.
In addition to our Hog Roast Eckington Barbecue standalone menu, we have others available too, like our three-course, Italian style Alfresco which includes gorgeous meats, cheeses and breads, a hog roast and then dessert. Our Loaded Fries come topped with brisket of beef or pulled pork, as well as melting cheese, a spicy or zesty slaw and jalapenos for a little kick, while our Southern Slow Roast gives you a trio of marinated meats and four hot or cold sides of your own choosing.
If you'd like to create your very own menu, that's no problem either, as you can mix and match dishes between our menus to make your own and if you have any guests on special diets, let us know and we can help you to choose suitable, tasty dishes especially for them. Hog Roast Eckington can do it all, so call us to book today!