When it comes to food, children are notorious for their fussy eating habits. If they love something one week, you can pretty much guarantee it'll be in their list of "yucks" the next. This can make planning a menu for a party feel like an almost impossible task for mums and dads, but all of you stressed-out parents can rejoice because the Hog Roast Wirksworth team has everything you've been searching for! Our catering packages offer a buffet of stunning foods, which are freshly made on-site and are renowned for putting a smile on everyone's face.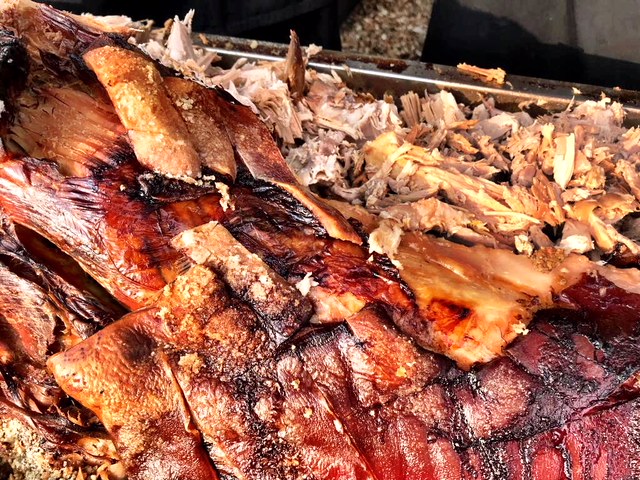 With her son, Jamie's 9th birthday coming up, over 30 children were about to descend on Cara's home in honour of the special occasion. But while she was excited to celebrate the day, Cara was nervous about her ability to please all the kids and their parents with her novice cooking skills, plus she didn't want to miss out on all the fun herself! To Cara's relief, she was soon put in touch with Hog Roast Wirksworth, after a close friend had recommended our services.
As children are without a doubt our toughest critics, our catering manager was keen to keep the menu as simple as possible by recommending our gourmet hot dogs and 100% beef BBQ burgers for the main, with mushroom and haloumi burgers as the meat-free alternative. For the side options, Hog Roast Wirksworth suggested our homemade, American-style creamy mac and cheese, fresh seasonal salad and recently launched loaded fries which consist of skinny golden chips smothered in melting cheese, juicy meats, zesty slaw and jalapenos.
Cara was over the moon with the bespoke menu that our team had pieced together, and with everyone's dietary requirements taken care of, she no longer felt stressed in the run-up to the big day. Working towards the midday serving time, Hog Roast Wirksworth gave themselves enough time to prepare the feast by arriving a couple of hours early.
Before anyone knew it, the spacious garden was soon filled with laughter and games as the party guests began arriving. Amid all the fun, the catering team served up the delicious grub which was well-received by adults and children alike.