Darker nights, near-constant rain and an energy bill that is sure to make your eyes water – yes, it's that time of year again folks and with the dreary winter months definitely upon us, everyone is in desperate need of a pick-me-up! Thankfully, our team at Hog Roast Macclesfield have just the thing to lift your spirits and last Saturday they found themselves heading to Brook Farm in Congleton to help Emma and her 40 guests enjoy a much-needed catch-up.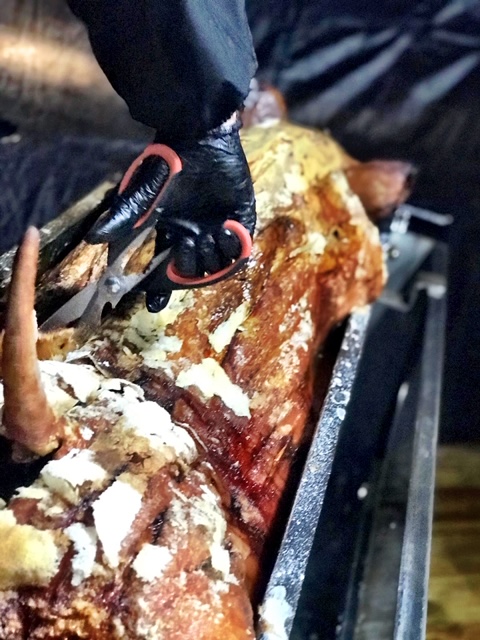 Having never placed a booking with Hog Roast Macclesfield before Emma wasn't sure what to expect, but after talking with our experienced catering manager Martin about her ideas for the event, she was pleased to discover that enlisting in the help of our catering team couldn't have been easier. After some thought, and a few recommendations from Martin, Emma decided on our classic hog roast menu which offers the perfect combination of succulent meats, flavoursome vegetables and lip-smacking accompaniments which even the fussiest of eaters have been unable to resist.
When the day of Emma's family gathering finally rolled around, Martin and the rest of the Hog Roast Macclesfield gang loaded up the catering van with an abundance of locally sourced, free-range produce from our Award-winning suppliers before heading off to the clients home. With the icy cold rain pelting down, the team had to work quickly to pitch the gazebo which provided them with some protection from the elements while they cooked up a feast of slow roasted whole pig with sides of pulled pork, crispy crackling, savoury stuffing and applesauce; as well as a selection of grilled vegetable skewers with optionable haloumi for those following vegetarian and vegan diets. For the guests who had arrived at 6:30 pm sharp, waiting the remaining two and a half hours for the serving time while the mouth-watering scents from the buffet filled the air felt like torture – but as always, our food was worth the wait!
Despite it raining cats and dogs all evening, Emma and her guests had a blast and couldn't get enough of the delicious food. In fact, they were so in love with the buffet that no amount of rain could deter them from leaving the house for extra helpings!