Nothing can hold Hog Roast Belper back from doing what we do best, and throughout these difficult times, our team has been hard at work as we continue to help our clients to get the most out of their events!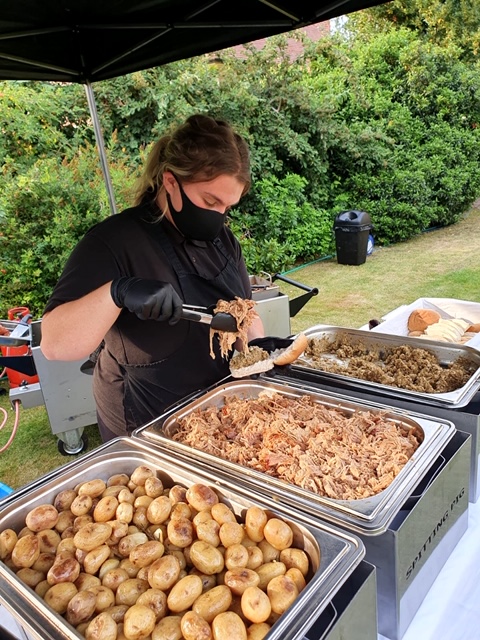 Of course, to keep in-line with government regulations, we have had to make a fair few adjustments to how we do things here – starting with our attire! Now, in addition to our traditional black aprons, our team have been rocking face masks and gloves. Also among our new COVID-19-friendly additions is the sanitation station which is a small table that our staff will regularly visit throughout your event to wash their hands and change gloves.
Unfortunately, these changes also mean that for now at least, we have had to say goodbye to our ever-popular buffet option. Instead, guests are encouraged to stand at a safe distance while our team fills and serves each plate individually.
Well, now that you're all caught up with our newest updates, we can't wait to tell you about one of the most recent bookings that Hog Roast Belper attended!
After being asked to cater at an intimate garden wedding which saw 20 people come together to celebrate the joining of two families, our catering manager, Martin worked closely with the client, Edward to come up with the perfect menu for the day. In the end, it was decided that our hog roast dining menu would be ideal for the event, but to suit the strict dietary restrictions of one of the guests, the option of a fat-free grilled chicken breast wrap was added to the menu.
Everyone else was treated to a mouth-watering hog roast spread that included side options of pasta salad with roasted veg, tomato and mozzarella salad, creamy coleslaw, roasted new potatoes in herb butter and gluten-free rolls and wraps. By the time the guests returned from the service at 3 pm, Hog Roast Belper had almost finished cooking, and the garden had been beautifully transformed by the gazebo, under which stood a rustic table arrangement.
At 5 pm, Hog Roast Belper started dishing out the food to the hungry guests who were amazed by the depth of flavours included in the feast.